These 4 Possible Villains Could Make Trouble In DC's 'Legends of Tomorrow', Season 2
Vandal Savage is out, but who's in for Season 2 of DCs cross-over series?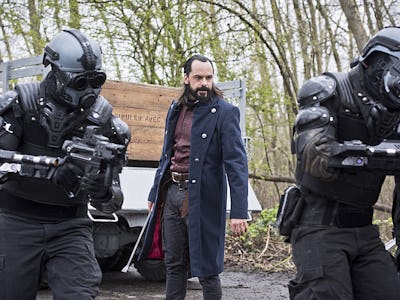 The CW
This article contains spoilers.
Immortal dictators are no more in the Legends universe. Casper Crump's Vandal Savage bit the big one in the season finale of DC's Legends of Tomorrow, and now Rip Hunter and his superhero squad are responsible for protecting the timeline. In a surprise revelation, the Justice Society of America (JSA) were introduced and seek the help of the unofficial Legends. But how big of a threat could the JSA be facing when they need Rip's misfits?
In a THR interview, executive producer Marc Guggenheim said the Season 2 antagonists aren't the Thanagarians, those extra-terrestrials who created Hawkman, Hawkgirl, and gave Savage his immortality. "It's going to be something else entirely," he said. "All I'll really say about the nemesis … is Vandal Savage looks like a walk in the park compared to what the Legends will be facing. This will be a much, much bigger threat."
How ominous. But who could Guggenheim be hinting? We can rule out some baddies: Steppenwolf of the New Gods, and to a lesser extent Darkseid, will likely stay in DC films. While DC's adapted universes are separate and characters are liberally used — Superman is kinda in Supergirl, Bruce Wayne is Ben Affleck in the movies and David Mazouz on Fox's Gotham — some can only be realized on the big screen. Plus, it'd be a poor choice to have Wonder Woman on TV just before her anticipated movie debut.
But the JSA has a long, exciting history of their own and have no shortage of potential antagonists to threaten the Legends and the JSA. If Vandal Savage is indeed just a walk in the park compared to whoever awaits in Season 2, then it's gotta be:
The Secret Society of Super Villains
With an equally kitschy Golden Age moniker, the Secret Society of Super Villains would be a formidable enemy that's fitting after Rip Hunter and his crew squared off against one guy.
Also sporting a wide, changing membership that's spanned decades, the Secret Society could be adapted for TV using villains already seen in Arrow, The Flash, and even Supergirl. The likes of Gorilla Grodd, Captain Boomerang, Killer Frost, the Royal Flush Gang, Captain Cold, Solomon Grundy, Ra's Al Ghul, and even the Reverse-Flash have all been members at different points and continuities, and in the case of Captain Cold and Ra's Al Ghul, well, who really stays dead in these things?
The Return/Introduction of 'Constantine' Villains
With the new expansion to DC TV, there's room to formally include or reintroduce forgotten bad guys. With NBC's Constantine folded into the Arrowverse last November, it shouldn't be impossible to continue Constantine's dangling threads. Conflicts with Felix Faust (Mark Margolis), Papa Midnite (Michael James Shaw), and the mystery of the Brujería are all still unresolved since its cancellation last year.
Ian Karkull
His name sounds unspectacular, but the sorcerer Ian Karkull has been a recurring JSA foe since his introduction in 1941. While most of the villains thus far in Legends of Tomorrow have been rooted in sci-fi and revisionist fantasy, the occult is a darker realm even Rip Hunter can't claim expertise with. If the show runners are serious about making Vandal Savage truly obsolete, then there's no better opportunity than in the supernatural.
Lucifer
Just kidding.