JT's 'Trolls' Song is Proof We Suck
Smoke through a keyhole; a brush through a CGI troll doll's hair; the death of everything that we love.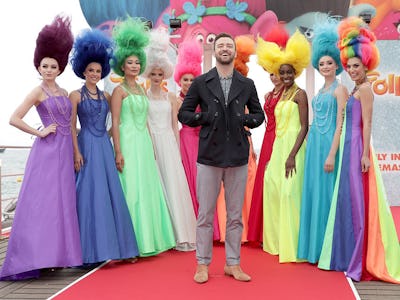 Neilson Barnard/Getty Images
The new Justin Timberlake song, "Don't Stop Til You Get Enough" — sorry, I mean ["Can't Stop the Feeling"] — has two videos to its name. The "official clip is a vaguely despicable budget-"Happy"-video/Target commercial, featuring corny white people and a bunch of other people I feel sorry for dancing laboriously in various non-descript sectors of L.A.
I've literally never seen anything so poorly thought-out. Timberlake leers into the camera, in all in Post Malone-white, either shopping for plastic fruit or cereal, or sitting in a diner eating some eggs like he's about to tell a friend about a haunting dream he had and lead him to a hairy-faced monster out back. Then there's a group coordinated dance under a highway, which is not as much a climax as a challenge to keep watching.
The pitch for the clip — and the song — seems to have been "inoffensive, please." After all, this is not just the first pop single from one of the genre's biggest, near-legacy artists in three years; it is the first single from the soundtrack of insanely low-stakes upcoming DreamWorks animated film Trolls. "Isn't there already one of those?" you might ask. No no, not just yet.
In fact, the second, equally HQ clip for the Timberlake song captures Timberlake, supposedly, unveiling the song for the first time… to DreamWorks' animation team? Meanwhile, fellow Trolls voice talents Anna Kendrick, James Corden, and Gwen Stefani — apparently, too good to hang with the graphics team — get down to its sterile, Marvin-Gaye-Pandora-at-Aeropostalé vibes in separate private listening sessions.
Probably the most important to reason to check this one out, though, is to note that Justin still favors the same style of tight-brimmed fedora he's been hitching his wagon to for at least half a decade.
Is "Can't Stop the Feeling" the sound of America today, averaged out and put to a focus group of people who think Beyoncé should take it easy on the police? Probably we're all complicit in this. Or maybe we should just blame the very small children, or the bloodless parents who set this as the alarms of their children's iPhones, in an effort to get the morning carpool running on time for once.
Whatever the explanation, Timberlake's greatest folly has dethroned Drake's dancehall-aping "One Dance" and Desiigner's crypto-trap crossover smash "Panda" to grab the #1 spot on the Hot 100. It is, then, somehow, technically, the biggest song in the country. If you want to visit the Billboard website in the weeks to come to trace the track's sordid progress, you will find a promo image of Timberlake, crown covered in that weird safety-blanket of a Goorin Bros. sales-rack item. He's staring at you glassily, looking like a Madame Tussaud's rendering of the human male person who made FutureSex/LoveSounds.
I hope every aging musician who has ever made music filed to the "Soul" racks will sue Justin Timberlake for all he's worth for this trash song. I hope that Trolls bombs. Music is now bad. God help us all when the next JT project does impact, which will probably come as Trump is getting ready to appoint his cabinet.