Watch Lockheed Martin's Epic Video Unveiling "Mars Base Camp"
The newly unveiled orbiting laboratory will lay the groundwork for a Martian landing.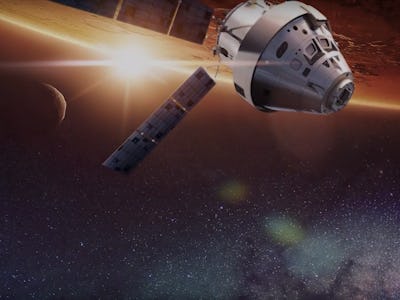 Lockheed Martin
Humans could be orbiting Mars in as little as 12 years, if Lockheed Martin's newly announced Mars Base Camp comes to fruition.
The new orbiting laboratory, unveiled today with an epic, orchestrally-soundtracked video, will serve as home base for six astronauts as they pave the way for a Martian landing as early as 2028.
In the same way humans first orbited the moon before attempting a lunar landing, it's hoped that orbiting Mars will allow astronauts to lay the groundwork for a future landing. The aerospace giant is introducing its plans for Mars Base Camp at the Humans to Mars conference today in Washington D.C..
On the Mars Base Camp, astronauts will operate rovers and drones on the planet's surface in real time, collect samples, and investigate an ideal landing site for future missions.
The floating laboratory, which includes a "habitat" for the crew, solar arrays for generating all of the spacecraft's power, and a science laboratory for analyzing samples collected from the planet's surface, is based on "a strong foundation of existing technology."
Thus far, NASA has spearheaded the research for a Martian landing. The space agency is already building the Space Launch System rocket for sending spacecraft into deep space, and it's collaborating with Lockheed to build the Orion crew capsule, the command-and-control center of the Mars Base Camp. Elon Musk's SpaceX is aiming to land the Dragon 2 (called Red Dragon) on Mars by 2018, but the spacecraft will be unmanned.
In the words of Lockheed's video: MARS. BASE. CAMP. IS. COMING.
Watch it here: