'Back to the Future' DeLorean Auction Hits $91.5 Million, but There's a Catch
Can the winner please step forward?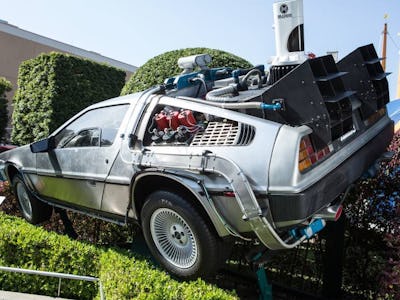 Universal Studios Japan
Universal Studios Japan is investigating its auction of a replica of the DeLorean car seen in Back to the Future after the sale price maxed out at ¥9,999,999,999 (about $91.5 million). No one has yet stepped forward with the tremendous sum of money, the proceeds from which would go to the Michael J. Fox Foundation for Parkinson's Research in honor of the Back to the Future star.
The auction took place Monday on Yahoo Japan's auction page and was proceeding normally until a ¥1.5 billion bid ($13.7 million) triggered the (likely invalid) rush. The auction is back online after the suspicious bids were removed.
"We have to investigate the bidders. Although we do appreciate the bids, we must remove anything placed in an irresponsible way," USJ spokesman Johta Takahashi told The Japan Times.
The auction page for the Back to the Future sale boasts that bids of ¥7,162,001 ($65,451) beat the overall goal of ¥880,000 ($8,045) by more than 800 percent. But the auction page for the DeLorean itself indicates that a recent ¥4 million ($36,000) bid is currently in first place, suggesting the administrators have removed the billion yen bids. Of course, though the auction likely was the victim of internet pranksters, it was nice to think just for a second that maybe someone cared enough about Marty McFly and / or Parkinson's research to spend several fortunes on the DeLorean.
Most DeLoreans still on the market go for between $30,000 and $60,000, pretty good for an old-time car that few would argue has contributed much more than its role in the film. As the Universal Studios model is souped-up to look just like the movie car, it may be expected to generate more excitement than the average DeLorean, but considering it doesn't even drive, any millions of dollars looks pretty absurd.
Last year marked 30th anniversary of the release of the seminal movie, sparking revived interested in the franchise, with a particular emphasis on the time traveling DeLorean. Texas-based DeLorean Motors Company has even announced plans to produce the first new DeLoreans since the 1980s. The 300 or so vehicles are expected to sell for $100,000 a piece, still significantly shy of the Universal Studios auction.
Despite the popularity of Back to the Future, Universal Studios Japan recently decided to shut down its displays based on the movie, sparking the need to auction off the park's assets. Maybe these fake buyers wanted to send the DeLorean out in style, or they know something about it that we don't.
See also:
Marty McFly's 2015 Nike Mags From 'Back to the Future' Auction for $84,000