Chris Hardwick Will Stay on Your TV With 'Talking Preacher' on AMC
The post-show talk show continues with Chris Hardwick taking on supernatural ministers.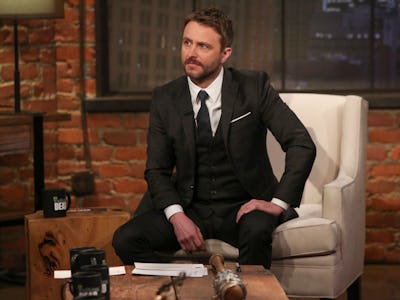 AMC
There's more than enough Chris Hardwick to go around, but the podcaster, comedian, and TV show host isn't resting. During Sunday's live post-show roundtable Talking Dead, which follows AMC's Fear the Walking Dead, the Nerdist founder announced Talking Preacher, a program that will follow AMC's new series Preacher.
Like Talking Dead and Talking Saul (for Better Call Saul), Talking Preacher will feature Hardwick joined by a roundtable of celebrity fans and Preacher cast and crew to talk shop on the new graphic-novel series. Unlike the other Talking shows, Talking Preacher will only follow the pilot airing on Sunday, May 21st at 10 p.m. Eastern and the season finale on Sunday, July 31st, also at 10 p.m. Eastern.
"It's very clear that Chris Hardwick knows how to lead and navigate a conversation about hordes of zombies on Talking Dead and shifty lawyers on Talking Saul so we can't wait to see how he'll handle this new batch of insanely, out-of-this-world characters from Preacher," said AMC's president of original programming Joel Stillerman. "It's amazing to see Garth Ennis and Steve Dillon's comic creation come to life and I know that Chris and our special guests on Talking Preacher will have a great time engaging fans in a lively discussion around this twisted and unpredictable new series."
He isn't wrong. Chris Hardwick has been lauded as a TV host for his easygoing, laid-back personality. The Talking format is easily sustainable, given its fan-driven content and generally low-stakes production value. Plus, fans just want to talk about their shows, and no one does that better than Hardwick.
Preacher, based on Garth Ennis's DC Comics/Vertigo graphic novel and produced by Seth Rogen and Evan Goldberg, follows a wandering ex-minister (Dominic Cooper) with supernatural powers. It debuted at SXSW to critical acclaim.