Who is Tostitos Tyler? Why Does ViralHog Want Him so Bad?
And who is actually the "worst dude ever"?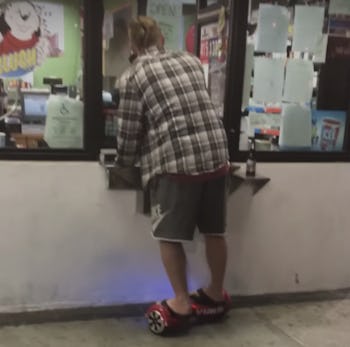 rjsaid
Every now and then, a viral video proves the haters are right about millenials. Take, for example, Tostitos Tyler.
Around 5 a.m. on a Sunday morning, Tostitos Tyler struck a Chevron gas station in West Hollywood like a self-entitled hurricane. YouTube user rjsaid found TT mid-freakout while "perched on a DoucheDeck/FootFedora/Hoverboard" and proceeded to film as TT verbally berated an unfortunate employee working the graveyard shift. He attacked in a grungy plaid shirt, Nike basketball shorts, sandals, a hoverboard, and a limp man bun. Contrary to what T-Pain and Lily Allen will have you believe, nothing good happens at 5 in the morning.
Believe it or not, rjsaid updated the YouTube video description recently to reflect his belief that TT is not the "worst dude ever." But more on that later.
No one has revealed Tostitos Tyler's true identity. You can bet he has a Spotify playlist of solely Post Malone's "White Iverson" though. What unfortunate series of events led up to TT's rant? Why does he so desperately need linguine, S'mores Pop Tarts, and those corn chips known as Tostitos? Also: Why is the public so intrigued? The video has racked up more than 150,000 views on YouTube in just five days.
Whatever the answers are, TT's poor pitbull mix is clearly familiar with outrageous rants and brash attempts at control.
"I am the fucking customer, you should not talk to me like this," TT says in the video shortly before going on his namesake Tostitos rant. "You get that. I come up here calm as hell asking you to do something for me and get something for me. You roll your fucking eyes at me."
Yet rjsaid claims TT is not the worst. "That honor goes to every dude at viralhog.com!" the updated video description reads.
ViralHog is a company that buys viral videos from content creators to promote and monetize it through licensing agreements. According to rjsaid, ViralHog has wrongfully claimed licensing rights to the video without consent.
"VIRALHOG has a LOT to learn about exactly how shitty we can get here in LA when we feel like we've been wronged," rjsaid writes.
ViralHog, for its part, told Inverse via email that the company cannot comment on specific licenses. A spokesperson did, however, assert the following:
"I can tell you that we research our content thoroughly and obtain the rights via a signed contract with the licensor. We follow this up with a variety of sophisticated checks to ensure we have the correct person. It is rare for us to later discover that our contract was invalid, but in the few cases where we've been presented with clear facts demonstrating as such, we release our claims and pursue the appropriate legal remedies."
Clearly, if ViralHog did not learn "how shitty" people can get in LA, the people at the company didn't watch what Tostitos Tyler did when he felt he had been wronged.
You do not want to find yourself in whatever circumstances led to Tostitos Tyler becoming Tostitos Tyler. If ViralHog is trying to bundle up the video rights of you going on a rant, you are not going to be famous for any of the right reasons.
Who knows, maybe TT was coming back from a hard night at some existential fight club. Perhaps he was coming to terms with being stuck at a dead-end job he doesn't like just so he can buy junk food he really doesn't need. Perhaps this is all because his generation has no purpose or place.
"You gotta get your fucking shit together man," TT rants. "I don't wanna like, fucking get you in trouble, but you need to stop fucking treating people like shit."
On second thought, maybe he's just an example of why you aren't friends with people who wear man buns and have slightly impressive hoverboard skills.