Here's Why the White House Wants to Study Your Microbiomes
You are a walking ecosystem for microbes, and a new research initiative aims to explore exactly how your microbes live.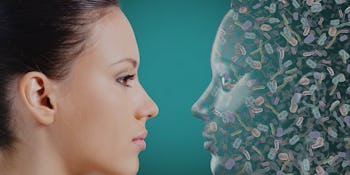 Illustration by Steven H. Lee
The White House announced a new initiative on Friday focused on supporting research into the microbes that shape every living thing on Earth. Supporters of the research believe that it will help provide vital information about fighting disease, growing more natural food and foliage, and reducing air pollution that has begun to plague areas like China. The study is zeroing in on microbiomes, the small communities of microorganisms that live on (or in) people, plants, the oceans, the soil, and our atmosphere.
The endorsement from the White House came after the initiative was awarded $121 million in federal dollars and raised $400 million in private funds. The research, backed by organizations like the Bill and Melinda Gates Foundation, is known as the National Microbiome Initiative (NMI).
According to the White House press release, the initiative is geared to "foster the integrated study of microbiomes across different ecosystems," exploring how microbiomes (affected by modern diets, climate change, and other man-made factors) have changed and adapted to our modern lifestyle. "Although new technologies have enabled exciting discoveries about the importance of microbiomes, scientists still lack the knowledge and tools to manage microbiomes in a manner that prevents dysfunction or restores healthy function," states the release. "The NMI aims to advance understanding of microbiome behavior and enable protection and restoration of healthy microbiome function."
The NMI's defined goals are as follows:
Supporting interdisciplinary research to answer fundamental questions about microbiomes in diverse ecosystems.
Developing platform technologies that will generate insights and help share knowledge of microbiomes in diverse ecosystems and enhance access to microbiome data.
Expanding the microbiome workforce through citizen science, public engagement, and educational opportunities.
The document outlines where all of the federal funding for the project came from, and who is buying in as a private investor, including the JDRF, the University of California (San Diego), One Codex, The BioCollective, LLC, and the University of Michigan. With the White House's help, the NMI hopes to draw in further support through researchers and investors in order to further define the microbiome ecosystem that lives inside of everything.