SpaceX Preps Another Dragon Mission From Florida
After returning from the International Space Station on Wednesday, the next Dragon is headed to Florida.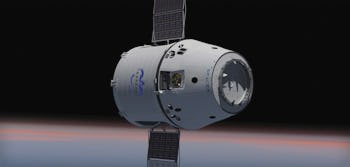 SpaceX
SpaceX has been enjoying an adventurous spring season, leading the charge on the race to send civilians to outer space. At the center of their fanfare, SpaceX's Dragon has been running cargo missions to and from the International Space Station in a series of unmanned tests. The company's goal is to successfully send a manned Dragon to the ISS in two to three years' time.
Most recently, the Dragon touched back down on earth after completing a cargo mission to the ISS, and SpaceX has wasted no time when it comes to preparing for the next one. Today, the company shared a gorgeous new shot of the next Dragon set for the space station. It will take off with the help of another of SpaceX's Falcon 9 rockets, one of which made headlines for an unexpected, perfect droneship landing this past week.
SpaceX Chief Elon Musk hopes that re-using rockets like the Falcon 9 and spacecraft such as the Dragon will help drive down costs. This method could also serve to boost mission frequency as the company moves closer toward its goal of sending a crew to the station, and at the end of the day, it's always important to recycle (especially because what the folks at SpaceX are recycling took hundreds of millions of dollars to make). The last Dragon came back carrying over 4,000 lbs of pure science including blood tests of astronaut Scott Kelly and other important data collected from the space station. The mission marked the eighth return flight for SpaceX, a milestone on the path toward commercial space travel.
As of right now, the Dragon is the only station supply ship that actually returns to Earth. Details on the next mission are a little hazy, but it's likely that the Dragon will continue doing cargo runs until SpaceX has finished developing the technology needed to bring on crew members.