Belgium's Police Say Facebook Reactions Are Used to Target Ads, Call Them a Privacy Concern
Don't be angry. It will make Facebook sad.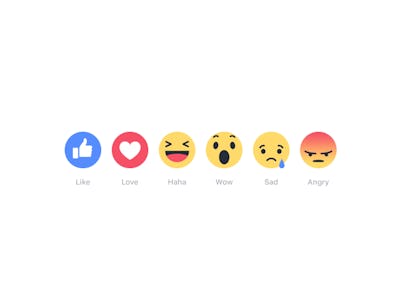 Facebook Newsroom
Belgium is hyper concerned about its citizens' privacy on Facebook. Late Wednesday the federal police issued a statement to be wary of the new Facebook reaction emojis, as they are apparently eroding citizen privacy.
The argument here is that Facebook will use these six reactions — laughter, amazement, anger, sadness, love, and the good ol'-fashioned thumbs up — to record users' moods and use that data to better target ads.
That's right, now Facebook knows not only that you once searched to buy Kanye West's latest pair of Yeezy's online, but it also knows you were very amazed by it.
Belgian police argue this data will help Facebook better evaluate the effectiveness of the advertising, target specific times of day when users' moods are more receptive to advertising, and serve ads that are catered to specific reactions.
The organization also says the inclusion of a set of six is very purposeful.
"By limiting the number of icons to six, Facebook is counting on you to express your thoughts more easily so that the algorithms that run in the background are more effective," Belgian police wrote in a blog post, translated to English through Google. "So this will help Facebook's ideal location on your profile and also to determine the time to view content that can arouse your interest."
It's easy to ascribe the phrase "duh" to this whole blog post, given that Facebook's entire revenue model is based on turning data into advertising revenue. Yet, Facebook has always said, "We don't sell any of your information to anyone and we never will."
The Belgian Police could be right that these reactions are or will be used in some capacity to serve ads, but Facebook says personal information on the site won't be compromised. For those truly concerned that someone somewhere has a catalog of your digital reactions, there's always the option to drop the social network altogether, but that would make Facebook very sad emoji.