George R.R. Martin New 'Winds of Winter' Excerpt Shades HBO's 'Game of Thrones'
In a new 'Winds of Winter' excerpt, the author gets in a sly jab at the HBO show.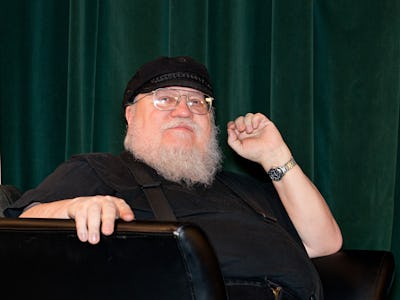 Getty
George R.R Martin might operate slower than the White Walkers (seriously, that army has been advancing since Season 2 — how have they not breached The Wall yet?) but he wants us to know that Winds of Winter is still coming, damn it. And he's got pages to prove it. And not only does he have pages, they're fixing what the show has ruined when it strays from the source material.
Obviously, he didn't say the words outright, but he didn't have to. He's got his pick of characters and lands about which to post stories online, and so his choice of Dorne is telling. He could have shown us what Arya is up to, or Bran, or Jon now that it's confirmed the "is he dead" question wasn't so much a cliffhanger as a "to be continued."
This particular sample Martin has given focuses on Dorne and Arianne Martell, a character the show cut to streamline the Dorne narrative to fit in this Emmy- winning line.
Martin announced the chapters with the following introduction on his Livejournal:
You want to know what the Sand Snakes, Prince Doran, Areo Hotah, Ellaria Sand, Darkstar, and the rest will be up to in WINDS OF WINTER? Quite a lot, actually. The sample will give you a taste. For the rest, you will need to wait. And no, just to spike any bullshit rumors, changing the sample chapter does NOT mean I am done.
As Dorne has been one of the most widely criticized aspects of the show, second only to the focus on Ramsay Bolton, this certainly feels like Martin is saying, "don't worry, my version is better." Whether or not he intends it, the sentiment is there.
Here's a particularly choice selection:
The Peregrine made port at the Weeping Town, where the corpse of the Young Dragon had once lingered for three days on its journey home from Dorne. The banners flapping from the town's stout wooden walls still displayed King Tommen's stag-and-lion, suggesting that here at least the writ of the Iron Throne might still hold sway. "Guard your tongues," Arianne warned her company as they disembarked. "It would be best if King's Landing never knew we'd passed this way."
Read the full excerpt here.