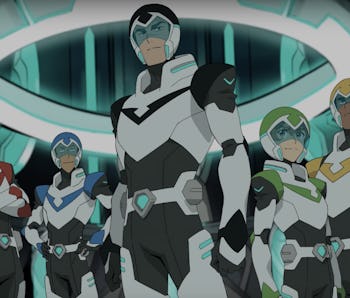 Entertainment
First Trailer for Netflix's 'Voltron: Legendary Defender' Is '80s Kids Heaven
The trailer has dropped for the Netflix Originals' reboot of the classic animated series. 
DreamWorks
Netflix has just released the trailer for its new original series, Voltron Legendary Defender, a reboot of the beloved '80s show. Five teenagers find themselves in the middle of an intergalactic war between good and evil when they are chosen to pilot the robotic lions that, together, form the legendary super weapon, Voltron.
Of course, they'll have to learn to stop ribbing each other, and work as a team along the way.
The animated action-comedy is part of an ongoing agreement between Netflix and DreamWorks. Executive producers of Legend of Korra, Joaquim Dos Santos and Lauren Montgomery have teamed up again to bring us Voltron: Legendary Defenders. The series will feature many familiar voices from Steven Yeun (The Walking Dead), Jeremy Shada (Adventure Time), Bex Taylor-Kraus (Arrow), Rhys Darby (Flight of the Conchords) and Kimberly Brooks (Steven Universe).
In the trailer, we see our young heroes fumble a training exercise, establishing themselves as underdogs and outcasts before they stumble upon the mysterious Blue Lion. The lion whisks them off meet Princess Allura where they learn their mission. There are some slick costumes, design updates, and the lions look seriously dope. We only get a glimpse of the villain King Zarkon but he pretty concisely reveals his villainous intentions: "Soon we will rule the universe." Not if Voltron has anything to do with it.
The season will include an hour-long origin story followed by 10 episodes and will be released on Netflix June 10.