Report: Lyft and Uber Do the Most to Protect Your Data
by Kastalia Medrano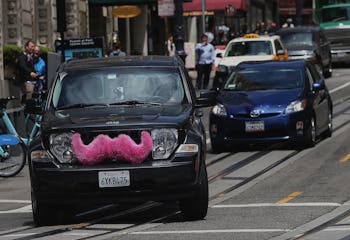 Getty Images
As the "gig" or "sharing" service industry booms, we don't always stop to think about exactly what happens to our personal information after we share it. A new report from the Electronic Frontier Foundation's offers an intriguing breakdown of just how safe various gig companies are at keeping all that data you hand over to them.
The 10 companies the EFF ranked in the report — titled "Who Has Your Back?" — represent most of the big names, including Lyft, Uber, Airbnb, and Taskrabbit.
The tech firm doing the best job of keeping your data secure? Lyft and Uber. The ride-sharing rivals were the only two companies to meet all six of the EFFs criteria: requiring a warrant for user content; requiring a warrant for prospective location; issuing a public transparency report; issuing public law enforcement guidelines; telling users about government data demands; and standing up for user privacy in Congress.
In an abysmal five-way tie for last place, Getaround, Postmates, Taskrabbit, Turo, and VRBO scored zero across the board for these criteria. Flipkey passed four out of the six categories; Airbnb and Instacart filling out the middle of the pack with three each.
The "Who Has Your Back?" report is the sixth such annual study from the EFF. Generally, each successive report shows more gig companies taking better care of your data (no one passed all six categories when the first one was released in 2011).
"We see a clear trend in our report: while some sharing economy companies have prioritized standing up for user privacy in the face of government demands, many others have not," said EFF Senior Staff Attorney Nate Cardozo. "This is a wake-up call to the gig economy companies and the people who use them. It's time for these services to catch up with the rest of the industry and safeguard our data from government overreach — ensuring that law enforcement access to this trove of information is fair, just, and only in accordance with the rule of law."