Strap on Your Proton Packs for Madame Tussaud's New Ghostbusters VR Experience
The wax museum gets infinitely more creepy with this action-packed virtual reality experience and exhibit.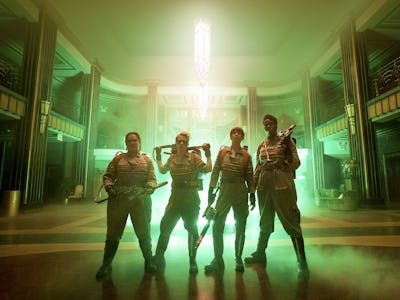 2015 - Columbia Pictures 
Wax museums have always gotten a bit of a bad rap: the tourist attractions that boast up-close looks at the biggest entertainers in the world can be viewed as cheesy or a waste of time, but the casual visit to any Madame Tussaud's location or the Hollywood Wax Museum (where the ultra creepy wax figurines live) can be a fun experience with hilarious photo ops. The process of creating wax figurines dates centuries back, where deceased royals would often have themselves and their loved ones immortalized in wax.
Now, somewhere amidst statues of Steven Spielberg and Johnny Depp, the new-age Ghostbusters will be joining the line-up at Times Square's Madame Tussaud's location for a limited time. The wax museum franchise is known for its creative displays, most recently with its immersive holographic celebrity experience in Tokyo. Along with wax replicas of the new team (which includes Kristen Wiig, Leslie Jones, Kate McKinnon, and Melissa McCaarthy) the exhibit boasts an awesome 4D experience that will immerse fans into the world of the new Ghostbusters.
Known as "Ghostbusters: Dimension", the hyper-reality experience is a collaboration between Sony Pictures and THE VOID The attraction spans four rooms crafted after scenes and sets from the upcoming film. "The Ghostbusters world is the perfect fit with THE VOID because we literally strap our RAPTURE vest and gun on you and they turn into your proton pack and proton gun," said James Jensen, Chief Visionary Officer at THE VOID. "You become a Ghostbuster, investigating an apartment filled with ghosts in a three player adventure, where hopefully you won't destroy New York City."
One of the rooms includes an incredible VR experience, where visitors strap on proton packs and head into the action for a round of ghost-hunting. "The technology is breathtaking," Ghostbusters creator Ivan Reitman said in a statement. "The experience is thrilling, and what better way is there to use VR than to let audiences inhabit the stories they love."
The experience will further immerse fans of the franchise into the scenes with small additions such as creaking floorboards and portraits that follows visitors with their eyes. Ghostbusters: Dimension opens at Madame Tussaud's in Times Square on July 1, a little over two weeks ahead of the July 15th Ghostbusters film release date.