A Leonardo DiCaprio Hologram? Madame Tussaud's Wax Museum Goes Digital
Madame Tussaud's Wax Museum in Tokyo has hopped on board the celebrity hologram train and wants you to come along for the ride.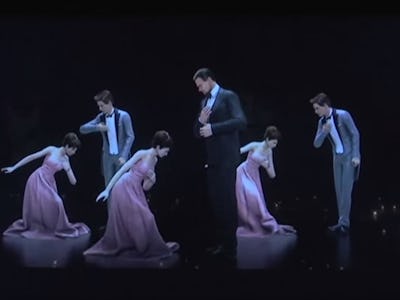 Youtube/Associated Press
Have you ever wondered what you might look like in a ballet leotard? Right, me neither, but Madame Tussaud's Wax Museum in Tokyo wants you to think about it. The museum, known for its lifelike wax sculptures of celebrities, has introduced a dancing hologram attraction in which museum-goers can dance alongside some of their favorite celebrity holograms.
Here's how it works:
The new attraction makes a hologram out of the museum-goer and pairs it with other celebrity holograms such as Leonardo DiCaprio, Brad Pitt, Beyoncé, Lady Gaga, and several others. All you have to do is have your face 3D scanned, and the image is then transposed onto the hologram dancer.
Then, for 90 seconds, you can watch in wonderment — or perhaps dismay — as you dance the waltz, disco, or the "Swan Lake" ballet alongside some of your favorite celebrities, like maybe Brad Pitt.
The new museum attraction is strange in its specific emphasis on dance, but dancing is noticeably more engaging than watching a hologram of yourself take a walk with Lady Gaga or participate in an automated conversation with Beyoncé.
While some of the first museum goers to experience the new attraction noted that being able to dance with Brad Pitt was "like a dream," others were predictably distracted by the "disgusting" image of their face on the body of a ballerina.
It seems like ever since Tupac was resurrected as a hologram at Coachella in 2012 that holograms have generally become a more popular avenue for digital media exploration, especially when it comes to interacting with celebrities. As the digital age advances, people crave a more potent sense of inclusion in celebrity affairs.
If having your avatar dance with a celebrity's avatar isn't enough for you, there's Being, app that allows you to see feel like Taylor Swift, by reviewing her Instagram feed. And there's List, an app which allows users to make recommendations for lists created by celebrities.
The hologram experiment capitalizes on the visual experience of inclusion in a strangely real way — that is if you can block out the part of your conscience that's telling you the holograms have been rendered by computers.