NextVR Founder: The Hardware Is Here; We're Working to Bring the "Flood of Content" 
Consumers need something to consume.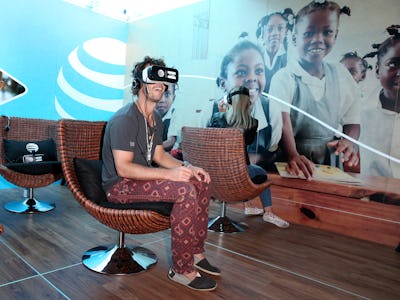 Getty
The next step in virtual reality is having a "flood of content" to consume, Dave Cole, the co-founder of NextVR said at the TechCrunch Disrupt event in Brooklyn today. Right alongside him was the CEO of Modsy, Shanna Tellerman, who promised that VR is also the future of home shopping.
Much of the money in VR is going to companies like Magic Leap, Oculus Rift, and Samsung Gear VR for production of the actual goggles and technology. Content has been created around games, but what is missing is the consistent, live, and all encompassing content that will keep people addicted.
Tellerman admitted that video games are, and will be, one of the most progressive and innovative areas in VR. But there is a lot of potential in other VR content. Live sports, shopping, travel, major purchases; the list of possibilities continues, and there is a lot of money to be made for the people who want to make this content.
Think: Next time you want to buy furniture for your home, jump into a photo of the realistic home that your house could look like in Modsy. Or if you can't afford all that new furniture because you spent it all on your expensive new VR headgear, you can look at all the couches and tables you could have bought.
The same goes for live sporting events. NextVR, which recently live-streamed the Kentucky Derby in 360 HD virtual reality, promises that you will be able to sit on the sideline of the basketball game or the endzone at that football game.
Currently, NextVR live-streams about one sporting event a week. What they want to do next is to "build a gravitational pull" of content that people return to time and time again to see what's happening next — like they would with any other channel. Additionally, Tellerman said that for "people like me" to start using the technology, giant welder-mask goggles aren't going to cut it.
The "gee whiz" value, as Cole calls it, won't keep people dedicated to expensive VR for much longer. It seems natural that content will follow, but making compelling, consistent content for more than just gamers is what's next.