Parrot Drones CEO Henri Seydoux Has Been Working on a Secret T-Shirt for Two Years
"I hope a few years from now a lot of people will wear my T-shirt," he said at TechCrunch's Disrupt NY.
by Kastalia Medrano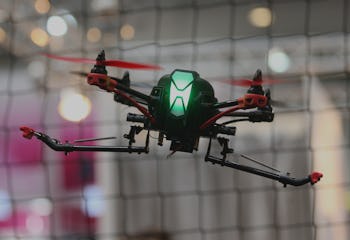 Getty Images
Parrot CEO Henri Seydoux swung by the TechCrunch Disrupt NY event taking place right now in Brooklyn to answer some questions about the drones his company has become known for. Parrot started working on drones in 2007 and its consumer models have since become wildly popular, selling 120,000 in just the first year, back when the drone craze wasn't anywhere near what it is now. Seydoux said that last year his company sold hundreds of thousands of $99 drones.
As for what's on the horizon for Parrot today?
"I try always to do cool gadgets," Seydoux said. "I am working on a T-shirt. I start two years ago. I hope a few years from now a lot of people will wear my T-shirt."
Moderator Romain Dillet, a TechCrunch writer who is visibly confused at this juncture, attempts several times to ask if it's a "smart" T-shirt or a "connected" T-shirt, to which Seydoux replies sagely: "I am working on a t-shirt that you have never seen before." Then they "high-fived on being French," and nothing more is said on the matter.
Much of the talk, of course, focused on Parrot's all-around success in drones. Citing the origin story for Parrot as his being "very good in paper planes as a kid," Seydoux said his aim at the consumer market was the logical conclusion for a company that wants to grow at the scale his does.
Parrot's focus now is largely on agriculture — it's developing software to make maps of crops and models of various plants, which can be used to show farmers how much fertilizer might be needed on a particular area of a given field, for example. Seydoux also believes this will help keep his company relevant and competitive with the Chinese, who are increasingly pushing their way into the consumer drone market.
"The drone is like the cell phone maybe six or seven years ago," Seydoux said. "The room for improvement is very big. A lot to do to make it simple, to make better video, so we're developing new concepts to make them very, very sophisticated … I think the drone is really something you use for leisure, to play with when you go to ski, to make your movie. And the exact same technology can be also used for very sophisticated application."
Apart from agriculture, Parrot's other main focus going forward is surveillance.
"We're not into delivery," Seydoux said firmly. "We believe a lot in surveillance, we do a lot of drones where we do city maps, the fields but also the objects, the bridges and power lines."
Cargo drones: decidedly not a direction in which Parrot will fly. "Cool gadget" t-shirts, though …