'Inferno' Trailer Ups the Action For Tom Hanks
Hanks is back for a third time as symbologist Robert Langdon to solve another hidden mystery using signs and symbols.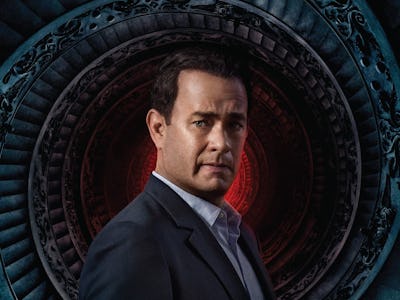 Facebook / InfernoTheMovie
Maybe the world needs more action movies inspired by 14th-century Italian poets. Tom Hanks suits up again (sans the heinous hairdo) once again as Harvard symbologist Robert Langdon in Inferno, director Ron Howard's third installment of movies inspired by author Dan Brown's ongoing series after 2006's The Da Vinci Code and 2009's Angels & Demons.
This time, Langdon wakes up in Florence, Italy with amnesia — the greatest of all plot devices — and has to piece together his missing memories the only way he knows how: by using art and hidden symbols from the Middle Ages to uncover a plot by an evil corporation that wants to wipe out half the worlds population with a new strain of the bubonic plague. It's all in a day's work for a Harvard liberal arts professor.
He's joined this time by another female companion, Dr. Sienna Brooks, who's played by Felicity Jones. Thankfully if the movie sticks to the source material there isn't a romance between the two, which is great because Hanks is nearly three decades older than Jones and that would be gross, and because Jones is a kickass actress in her own right. Jones's character is a former lover and disciple of Bertrand Zobrist (played by Ben Foster), the rich supervillain who tries to unleash the plague on humanity.
The cast is rounded out by Irrfan Khan as Harry "The Provost" Sims, the hilariously named dude helping Zobrist carry out the attack; Jurassic World's Omar Sy as Christoph Bruder, a European Centre for Disease Prevention and Control employee; and Sidse Babett Knudsen as Dr. Elizabeth Sinskey, the head of the World Health Organization.
The trailer definitely accelerates the action, or at least, wants to make it seem that way. Some pointed editing looks like it wants to sideline the thinky puzzle-solving details of the movie that put the character on the map in favor of over the top set-pieces. Who knows, maybe this will be Hanks' version of Taken where he's the ultimate old man badass who's also a Harvard professor that helped stop the destruction of the world twice before.
Here's the complete synopsis:
"Academy Award® winner Ron Howard returns to direct the latest bestseller in Dan Brown's (Da Vinci Code) billion-dollar Robert Langdon series, Inferno, which finds the famous symbologist (again played by Tom Hanks) on a trail of clues tied to the great Dante himself. When Langdon wakes up in an Italian hospital with amnesia, he teams up with Sienna Brooks (Felicity Jones), a doctor he hopes will help him recover his memories. Together, they race across Europe and against the clock to foil a deadly global plot."
Inferno will strike theaters like a plague on October 28, 2016.