SNL's 'Game Of Thrones' Parody Says Jon Snow Is Really Dead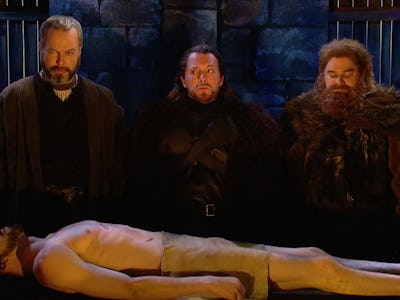 Saturday Night Live/YouTube
Game of Thrones hype is reaching fever pitch, but it still drags on a bit. Saturday Night Live mocked the show's dramatic build-ups by asking the question of whether Jon Snow is really dead. Like, really, 100 percent dead.
For anyone who is in doubt, this article will contain spoilers for the latest episodes of both Game of Thrones and Saturday Night Live.
It's been one of the great mysteries plaguing Game of Thrones addicts for months. Is Jon Snow really dead? Snow, played by Pete Davidson in the sketch, is laying on a slab, and everybody says that he's dead. Of course, Brie Larson and Cecily Strong standing at the side know better, asking the show to, you know, get a move on with it all?
Melisandre, played by Kate McKinnon, then steps onto the scene to revive Jon. Maybe. It's totally anyone's guess, though. The spell might not work, Melisandre explains, so this is absolutely a really tense moment.
The sketch follows the second episode of Game of Thrones' sixth season, where at the end of the episode, Melisandre (played by Carice van Houten) brought Snow (Kit Harington) back from the dead with the help of a magic spell. The revelation sent viewers into a flurry, asking questions about whether this makes Snow and Melisandre into some sort of unstoppable team, and what Snow's first moves will be now he has returned.
In a recent interview with Entertainment Weekly, Harrington explained more about how Snow's death will impact the character in episodes to come. "Jon's never been afraid of death, and that's made him a strong and honorable person," he told the site. "He realizes something about his life now: He has to live it, because that's all there is."