'Captain America: Civil War' Beats 'Batman v Superman' In Box Office Open
The all-star mega flick made $181.8 million in its opening weekend.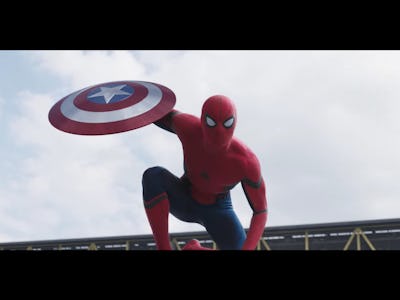 Marvel Entertainment/YouTube
Capitain America: Civil War got off to a huge start in theaters this weekend, raking in a staggering $181.8 million in domestic markets. Including international markets, where the film has been out since April 27, Marvel's latest offering has brought in an earth-shattering $678 million in total revenue.
The film came just $10 million shy of beating Avengers: Age of Ultron's opening weekend, while making nearly double that of Captain America: Winter Soldier's $95 million opening. Civil War has comfortably earned back its big budget of $250 million.
Civil War's grand opening beat out DC's Batman v Superman, which opened at just $166 million.
The film marks the debut of Spider-Man into the Marvel cinematic universe (or MCU), , a range of connected films and TV shows that chronicles the Marvel superheroes and villains. The character is one of the world's most beloved heroes in the Marvel canon, and Captain America: Civil War will lay the groundwork for a new solo Spider-Man film expected to debut in 2017.
Critics have loved Civil War. The film currently holds a 91 percent "certified fresh" rating on Rotten Tomatoes. "Captain America: Civil War begins the next wave of Marvel movies with an action-packed superhero blockbuster boasting a decidedly non-cartoonish plot and the courage to explore thought-provoking themes," the consensus reads.
The film is part of the third phase of the MCU. The next film in the MCU will be Doctor Strange, starring Benedict Cumberbatch as the titular character, which is due for release on November 4. Before then, however, Marvel's Luke Cage is expected to launch on Netflix September 30.