As SpaceX Prepares for Tonight's Launch, Hopes Remain Low for the Perfect Landing
Tonight's launch of SpaceX's rocket containing a Japanese communications satellite (JCSAT-14) has already been delayed once.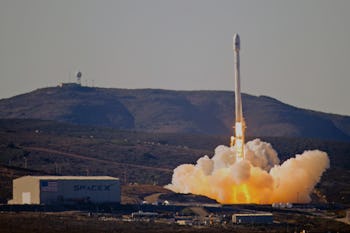 Everybody loves an underdog, and after the multiple delays that have plagued this week's JCSAT-14 launch by SpaceX, supporters are eager for a defiantly successful launch and landing of the accompanying Falcon 9 rocket in Cape Canaveral, Florida. Unfortunately, scientists don't survive on wishful thinking, and the minds behind the launch aren't necessarily anticipating a perfect landing after the rocket comes back from orbit.
SpaceX recently pushed the launch's date forward one day, citing weather at the cape for the delay. Despite doubts, the rocket will still attempt to land on the "Of Course I Still Love You" barge after re-entry. "The first-stage will be subject to extreme velocities and re-entry heating, making a successful landing unlikely," said SpaceX.
Leading up to the launch, Elon Musk has been supporting the project and sharing data from the SpaceX website to give insight on how the Falcon 9 works and what SpaceX's intentions for its service are. The page details tonight's Cape Canaveral location as one that "benefits from many support services in the region, including security and launch range control, weather monitoring, ground support infrastructure, payload processing facilities, and long-range tracking cameras capable of observing launches from liftoff through stage separation and second-stage ignition out over the Atlantic." Frequently used for communication and supply missions, the Cape is no stranger to rocket launches, neighboring Kennedy Space Center (located to the North). It has since become a frequent tourist destination for live launch viewings.
The Falcon 9 and JCSAT-14 are officially scheduled for a 1:21AM ET launch tomorrow morning (Friday). Stay tuned right here at Inverse for upcoming coverage of tonight's rocket launch in Cape Canaveral and the results of re-entry for the Falcon 9. You can also catch the live stream of the launch tonight from the comfort of your home by clicking here.