Periscope's New "Save" Feature Puts the Internet In Perspective
We're the first humans who have HD video to record our lives and we increasingly can save them online.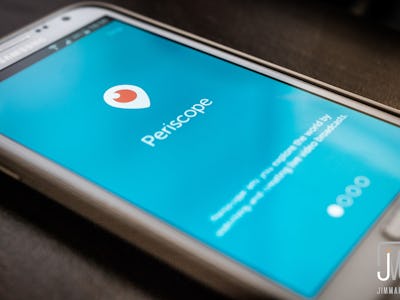 Flickr/Jim Makos
It doesn't take a lot of investigation to notice the current fascination with documenting our daily activities through livestreaming services. Following the launch of Periscope last year and Facebook Live just a few months ago, the capacity to watch people do things in real time feels like a groundbreaking yet inevitable milestone in technology's involvement in our daily lives.
Periscope's introduction today of a new feature that allows users to save videos indefinitely once the stream has ended is another reminder of the extensive access we have to HD video in our daily lives.
Periscope's new save feature is only in its beta period, but any user is free to test it out. All you have to do is add "#save" to the broadcast title, and the stream will live on for however long you choose. Before introducing the save feature, Periscope streams were only saved and available to view for 24 hours. CEO Kayvon Beykpour confirmed the new function will be permanently integrated into the app in the near future, but for now users should avoid adding any prefixes or suffixes to "#save" if they want their videos to be saved.
The ability to extend the lifespan of a stream makes perfect sense when you consider how popular some streams become by the time the broadcast has ended. If an internet publication, for example, found that one of its streams had a surprisingly huge viewer turnout, why not be able to let it hang out on the internet for as long as possible? Just because people may not catch things happening live surely doesn't mean those videos don't deserve to be watched at some point in the future.
While the new "#save feature" on Periscope is a predictable development in the company's trajectory, its implications are slightly dizzying. It's just another reminder that the decision to share videos online — a concept that just ten years ago felt groundbreaking — is becoming more common with each passing day. The inherent invasiveness of the internet is often overlooked, but the reality of having potentially thousands of people watch you do something on Facebook as it's happening still feels like an Event.
Zooming out even further on the issue, our access to recording video is put into perspective: we are the first humans who have HD video available to record our entire lives. Even after we die, we will exist online. And voila, you have the internet.