Uber Has Primed Us for the Emissions-Free Autopod 
Autopods provide affordable, emission-free, and fun pedicab rides in now two U.S. cities.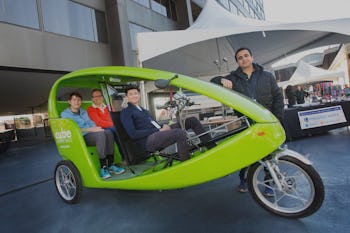 Facebook/Autopods
Technologies like Uber have indisputably revolutionized transportation by putting ride-hailing capabilities at our fingertips, but they haven't done much for the environment. The spread of electric Autopods, which provide affordable and emission-free rides, is picking up the environmental slack these convenient taxi services have left behind in their tailpipe emissions.
Autopods is a Pittsburgh-based startup, offering affordable and fun rides in sleek, green, pod-shaped vehicles. Powered by foot pedals and a battery for hilly situations, Autopods produce zero tailpipe emissions, so those who take advantage of the service can feel content in their personal contributions to the well-being of the planet.
The burgeoning company accommodates the idea of micro transport, or the short-distance transport needs most people have. Rather than riding in a taxi to the grocery store or the post office a mile away, the makers of Autopods want us to stop polluting the environment for these shorter distance trips and meet those needs with green approaches — in an Autopod, preferably — instead. It might take slightly longer to get where you're going, but the exciting design of the green rickshaw-type vehicle provides a novel and relaxing experience.
Since the launch of Autopods in 2015, the Pittsburgh-based startup has begun its expansion to other cities. Today the Associated Press reported that the chief executive officer of Autopods attended a news conference in Charleston, West Virginia at the city's Haddad Riverfront, where officials unveiled a new mode of public transportation for the downtown area. Considering Autopods' emphasis on micro transport, it seems that mid-size cities like Pittsburgh and Charleston are apt locations for the start up to test the waters.
The spread of Autopods in the United States reflects similar transportation reforms abroad, like the Indian auto-rickshaw revolution of recent years. In a 2012 Hindu.com article, a report by the World Resources Institute maintained that "not only do auto-rickshaws provide an alternative to cars, but they also facilitate the use of public transportation and are a growing option for sustainable transport."
In 2012, so-called tuk-tuks made more than 229 million passenger trips per day, a number that was projected to at least double by 2031, with tuk-tuk rides comprising 20 percent of daily trips in India. While the tuk-tuk drivers in India lack protection and frequently counter police exploitation, the environmental and public transportation benefits are evident.
Taxi services like Uber and Lyft indeed reflect technology's trajectory toward making things easier, but convenience has an expiration date: the next step is usually to address the increasing threat of climate change. Uber and Lyft have introduced ride-sharing features into their services, which have removed cars from the road by encouraging users to carpool, but climate change's quick and unsparing agenda calls for more drastic measures. Ideally, we should seek to eliminate tailpipe emissions, not just reduce them. Autopods is an important step toward that ideal.
It may be a while before we see Autopods expand to larger cities in the United States, but hopefully the introduction of the green pedicabs in Pittsburgh and Charleston will set a pivotal precedent. Until then, would it kill you to walk to the grocery store next time?