Viv Is a Conversational A.I. From the Makers of Siri That Your iPhone Needs
It will be debuted to the world on Monday.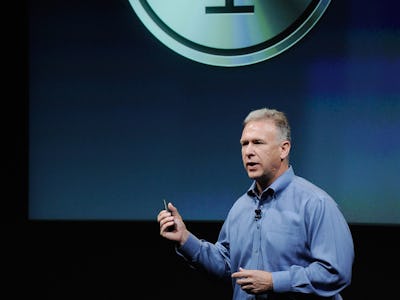 Getty
The founders of Siri have been independently working on a new voice-operated, A.I. digital personal assistant called Viv. It's set to debut on Monday, and it's promising to take digital personal assistance to a whole different level.
Dag Kittlaus and Adam Cheyer, Siri's creators, will publicly demonstrate Viv at the TechCrunch Disrupt conference, the Washington Post reports. It's everything that Siri is not, they said: useful, integrated, and adept at understanding the nuances of human speech. In short, Viv isn't just another artificially intelligent chatbot.
The Viv team gave the Post a low-key pizza-ordering demonstration of its voice assistant. The engineers simply told the Viv software that they wanted pizza delivered to their Chicago office, and it responded by asking about toppings and side orders. Then, 45 minutes later, the food arrived, as ordered – no apps were used and no typing was done.
Viv is what Kittlaus and Cheyer had in mind for Siri before Apple bought it in 2010. The seeds of Siri (and Viv) go back to 2003, when Cheyer was working on a Defense Department contract for a digital personal assistant. Noting the rise of smartphones, Kittlaus convinced Cheyer to make the transition to developing something optimized for mobile in app form. Thus, Siri, Inc. was born.
Siri started as an independent app that could weave through other apps and browsers to do anything you needed it to. Then Steve Jobs came in like a Miley Cyrus wrecking ball and turned Siri into the voice-command technology everyone loves to hate. A third of the Siri engineering team — including Kittlaus and Cheyer — left after the Apple acquisition.
Six years later, Kittlaus and Cheyer are back in the public eye. Viv "is what they wanted Siri to become an open system," Bart Swanson, a Viv and Siri investor, told the Journal.
The problem with present-day Siri is that it can't act independently. It's a voice and technology system programmed to do only as much or as little as Apple desires. Ask Siri for some movie tickets and it will pull up Fandango and leave you to do the heavy lifting. But typing into individual apps is the way of the past.
Every major tech company is working on its own A.I. personal assistant now. Facebook has M, Amazon has Alexa, and Microsoft has Cortana. All of those are designed to work specifically for the companies that designed them and the apps they partner with. That's the problem with current systems. People want something that can buy movie tickets, make a dinner reservation, and set up a ride, all from one stream-of-consciousness order.
Most of all, people want an A.I. that actually understands them and can act on vocal input.
"It's about taking the way that humans have naturally interacted with each other for thousands of years and applying that to the way they interact with services," said Kittlaus. "Everyone knows how to hold a conversation."
Viv hopes to end consumer dependence on pages and pages of apps. The future won't be completely app-less, but you won't have to navigate pages more crowded with apps than Times Square is crowded with Disney-themed furries.
No one knows if Viv can live up to everything the internet hype machine is building it up to be or what Kittlaus and Cheyer plan to do with Viv when it is finally released on the public. But come Monday's TechCrunch Disrupt showing, everyone will have a chance to see if the duo has finally built a Siri that actually works the way we want it to.