Upcycled Airplane Fuselages Are a Shockingly Sustainable Update on the Pool House
DappR Aviation's Aeropods are sleek, multi-use, and innovative additions to any household made from aircraft fuselages.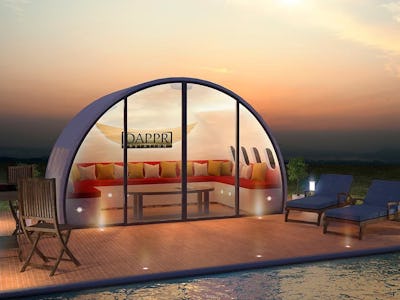 Dappr Aviation
While seated on a commercial airliner, have you ever looked around at the details of the main cabin and thought, "Wow, there are so many things here that would go great in my living room room?" Probably not, but DappR Aviation wants you to reconsider the homey potential of an airplane: The upcycling company repurposes parts of retired planes into distinctive flourishes for your home.
DappR Aviation upcycles various aircraft parts to create coffee tables, boxes, trolleys, and lighting, but the Aeropod is by far the most enticing product the company offers, albeit the most expensive. To create an Aeropod, an aircraft fuselage — the main section of an aircraft's body that carries cargo and passengers — is repurposed into individual, multi-use, fully-insulated buildings. Made from aviation grade aluminum, the Aeropods boast sturdiness and a sleek, futuristic appearance.
A precision cut applied to the fuselage of an A320 Airbus or a Boeing 737 retains the shell of the fuselage as well as its aluminum floor bearings and insulation, creating the general rounded shape of the aeropod. With the option to have electricity, water, and heated floors installed, the aeropods can serve as a wide variety of inventive additions to a home: a gym, a poolside relaxation space, an office, a home theater, or a fancy bar. Whatever it is you are looking for, DappR will personalize an aeropod based on your specific demands.
This all might sound wacky, but the truth is that there are a lot of disused planes just sitting around. Aircraft boneyards, otherwise known as aircraft graveyards, are sites where aircrafts that are no longer in use are stored, stripped for their parts, and reused. Hot and dry conditions reduce the rate of corrosion on the aircrafts, which is why deserts are ideal locations. The largest aircraft storage facility in the world is the 309th Aerospace and Maintenance and Regeneration Group — a.k.a. The Boneyard — located in Tucson, Arizona, which contains more than 4,400 aircrafts.
With so many retired aircrafts lying around, DappR's upcycling initiative is an innovative and resourceful solution to finding ways to recover a surplus of discardable parts. The company has even found ways to reuse passenger chairs from the main cabin of an aircraft. While it's a bit unclear why anyone would want to invest in an airline seat that barely reclines, the aeropod's multifaceted uses and elegant design are enticing selling points for a practical and environmentally conscious addition to the home.