Even in 'Grand Theft Auto,' Google's Self-Driving Car Needs More Development
The self-driving car has come to 'Grand Theft Auto: San Andreas' by way of a clever mod maker. The best part? It's developing at the same speed.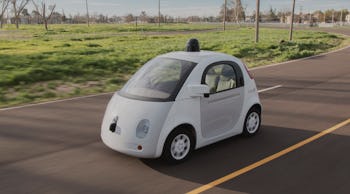 Google
Grand Theft Auto is one of the longest-running franchises in video game history that did not first appear under the colorful umbrella of Nintendo. The games, known for their vulgarity as well as a knack for stirring up headlines, have held their position as a mainstay in open-world gaming and up-to-the-minute pop culture references. Backed by their innovation and this video of an adorable grandmother enjoying the game, GTA has grown with the opportunities for in-game mods that rank in the top YouTube search results, and include mods that turn players into pistol-wielding versions of Anna and Elsa from Frozen.
Now, a creative mod for Grand Theft Auto: San Andreas looks to make the game even more immersive by bringing Google's futuristic self-driving car to the game, along with the production time it will take to actually release the cars to the public. Posted by YouTube creator pizzaforbreakfast, the new mod fits right in with the satirical style expected of the game.
Rumors have been swirling around Google's self-driving car since the concept's debut, and while all arrows point to a deal with Chrystler, the days left to count down until the car's public release remain vague and not numbered. For now, the car can be viewed in two starkly different formats: through the elaborate videos that Google has posted up on the car's feature site, or through this mod, where the vehicle proves itself to be the perfect getaway car when the situation calls for tight spots, quick maneuvers, and particularly colorful car customizations.
The only question, now, is how long Grand Theft Auto players will be able to go without completely trashing the vehicle or using it as a weapon on its own. After all, hurling a tiny smart car at an enemy can be a great stress reliever.