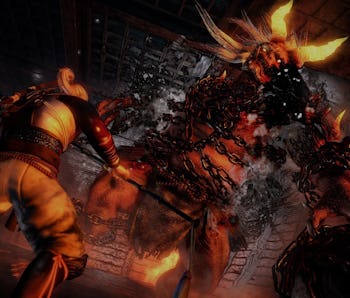 Gaming
Play The 'Nioh' Game Demo Before It's Too Late
The trial for Team Ninja's brutal 'Dark Souls' and 'Onimusha' mashup leaves PSN tomorrow. 
Koei Tecmo
If you're a PS4 player looking for your next brutal fantasy RPG fix, take note: the demo for Team Ninja's feudal Japanese-set Nioh is leaving the PlayStation Store tomorrow.
Though the game's limited-time demo was released to little fanfare late last month, Nioh is one to keep an eye on. At a glance, it looks like Dark Souls in samurai armor, which is such a badass conceit that it's a little surprising it hasn't been done already. But spend any time wandering around the demo's salt-crusted island village and you'll quickly see the potential for even more depth — and challenge — than FromSoftware's infamously cunning series.
It's right to expect countless deaths as you're getting the hang of Nioh's strategic stance-switching combat, which feels vicious by practically any game's standard. A lone bandit may decide to rush you, breaking down your defense quickly. A group fight of four of five can be nightmarish, as it's impossible to hold off a fury of attacks for long and even a few well-timed dodges can take big chunks out of your stamina. The cadence of battle here demands control and restraint in equal measure. Your enemies also doggedly chase you everywhere, so brashly charging ahead or treating the game like a hack-and-slash won't end well.
And that's just the humans. There are notably yokai lurking as well, hulking demons straight out of Japanese folklore, which, along with an interesting take on a few other genre conventions, go a long way at giving the impression that Nioh has a strong personality beyond a strict Souls mold. (They also help fill a hole that's been glaringly absent since Onimusha went dormant — definitely a good thing.)
Nioh has had a hard life to get to this point. The game was first announced in 2004 as an adaptation of an unfinished script by Seven Samurai auteur Akira Kurosawa, then planned for release as a PS3 title (and if you're worried about its decidedly western-looking protagonist, Kurosawa's initial story called for a golden-haired samurai of apparent mixed descent, as in the original concept art below). After years of development hell and only sporadic updates, the game finally resurfaced at TGS 2015 looking like its current incarnation, though how many iterations it took to land on its final form is anyone's guess.
Nor is it known whether or not much, if any, of Kurosawa's original script has survived the game's transitions. Still, even in its early, alpha state, Nioh is already showing an impressive amount of polish, at least if its demo is anything to go by. Bonus: Team Ninja is rewarding players who finish the first area with free exclusive DLC when the full game releases later this year. No doubt a tough challenge, but one well worth your time.