Elon Musk: "Half of All Cars Produced in 7 or 8 Years Will Be Fully Autonomous"
Just another one of Musk's ambitious predictions, or inevitable truth?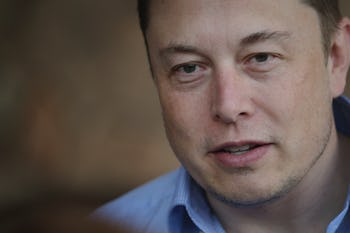 Getty
The future of autonomous cars ruling the roads may be closer than we think. Elon Musk said today at the World Energy Innovation Forum that "half of all cars produced in seven or eight years will be fully autonomous."
Musk is hosting the WEIF in the Tesla factory in Fremont, California. The event is a place for the "who's-who in the energy innovation sector to discuss the important energy issues and opportunities of our time," its website proclaims. Judging by Musk's statement on autonomy, that future will feature self-driving cars, and you can bet he expects Tesla to play a large part in shaping that driverless future.
Tesla is already on the cusp of vehicle autonomy. The Autopilot feature is arguably the most advanced semi-autonomous system on the roads today, and it is constantly being improved.
Still, even with the rapid interest and advancements in autonomous car technology, seven to eight years is a bold prediction. This is to say nothing of state and federal laws that still have to catch up with self-driving cars. Working off that timeline, Tesla will be selling fully autonomous cars in its fourth or fifth model.
The news of Musk's quote came from the account of Arcimoto, a three-wheeled car start-up that recently appeared at the New York Auto Show:
The Model 3 won't start production until 2017, and the earliest buyers shouldn't expect to see a car in their driveway until 2018 at the earliest. That's if Tesla can start producing cars in larger numbers. Some of the 400,000 people who preordered their Model 3 wont see their car until 2019 or 2020 — halfway to Musk's fully autonomous selling goals.
That means that the Model 4 (or Y, or whatever name it ends up with) could come off the production line starting with Musk's full autonomy date.
Of course, Tesla is just a single ball in the Chuck E. Cheese ball pit that is the global car market. If the world wants to live up to Musk's goals, the rest of the automobile industry will have to step their game up as well. The good news for those who believe in Musk's timeline is that most car companies (and some technology companies) have already dipped their tires into development of autonomous technology.
Ford expects driverless technology to be ready by 2020, Google and Fiat Chrysler recently paired up to make autonomous minivans, and the private Comma.ai hopes to retrofit your car into autonomy.
No company has put a timeline on mass production, however.
Seven or eight years sounds ambitious. But with Musk driving the production dates, you can bet Tesla will aim to be at the forefront of his predictions.
See also: Elon Musk Shares Video of Tesla Model S Autopilot Avoiding Highway Collision