'Containment' Suffers Damage From Jake Riley's Constant Pouting
What exactly happens when the government puts a entire zone of the city under military control? Major pouting.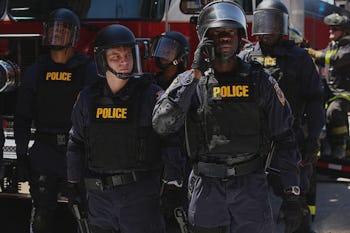 Quantrell Colbert / The CW
This week on Containment, things heat up inside the cordon as the reality of a completely cut-off and resource-strapped zone in the middle of the city begins to sink in for our protagonists.
Amid looting and escape attempts, Jake (Chris Wood) is trying to keep things somewhat civil on orders from Lex (David Gyasi), who has effectively put Jake in charge behind the shipping container walls.
The episode makes a big deal out of Jake being so busy and the cops inside to cordon being outnumbered 400:1, but apparently he still has time to help Dr. Cannerts burn the bodies of those who have succumbed to the virus — because there's literally no one else in this entire hospital who can be trusted with it.
Lex is hard at dealing with a sort of helplessness outside the cordon, being the face of public safety, and trying to keep a lid on journalist Leo Greene. Greene has sources inside the cordon — two women who seem to be a couple, but who are most likely going to die shortly after the episode ends because they've been infected, and that's just how things have been going for women (and queer women in particular) on TV this spring.
Greene is publishing videos of the marks on houses (like plague crosses, he says) and spreading "truth" with the help of these women and when they find an overlooked fire escape that provides a way out of the cordon, Greene posts it for everyone to see. This leads to an escape attempt, a police standoff and, ultimately, a man's death.
It's clear that the crux of this story is not the containment itself, but rather, the human stories unfolding within it. Which would be fine and great, except the character development is constantly stunted by the mechanics of the cordon plot. They're not especially well-integrated and, beyond that, the show continually asks and answers the wrong questions. We spend too much time focusing on Jake's apparent reluctant hero complex and too little time answering questions like, "What's happening to all of the other people in the hospital?" and "Where's the stress of supply lines being cut off?"
We focus on a few main characters, but rarely do we get any insight about what's happening on the street just outside of whatever building they happen to be in. Sometimes, this works well. It's a way of building tension. Often, though, it feels like oversight. We hear Cannerts talk about needing lab rats, but no one else talks about the many other supplies a hospital requires to keep running, particularly under the strain of a viral outbreak. This zone must be cut off from some of the essential things it needs, but we don't hear about it often enough.
Containment would do well to spend less time on Jake Riley and his constant pouting and more time on its other characters (Katie and Theresa, who remain two of the most potentially compelling elements of the show), and we need more answers to the questions we can't help but ask: Where are the supplies? What's happening in every grocery store that doesn't belong to Theresa's mother? What's going on in every other part of the hospital? Is anyone making an attempt to round up people who are sick but aren't in hospital quarantine? If so, who are they? Is this Jake's job, in addition to peace-keeping in grocery stores and burning bodies in his spare time? Where is everyone else inside the cordon? We hear about unrest, but where is it, exactly?
At the end of the episode, we see internet and phone access being cut inside the cordon, and that act is justified by highlighting the threat which information poses (courtesy of Leo Greene). It should prove an interesting wrinkle, but if the first three episodes are any indication, it'll be under-explored. If Containment wants to live up to its potential, it needs to step away from Jake Riley and start using its other players to approach the cordon's big questions in a smart, compelling and character-driven ways.