Guillermo del Toro's New Movie Is a Cold War Romance Thriller About a Merman
'The Shape of Water' might star Richard Jenkins, Sally Hawkins, Octavia Spencer.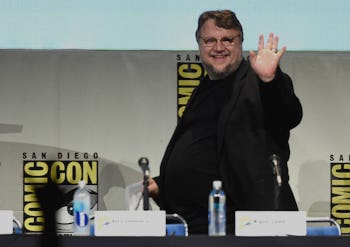 Kevin Winter / Getty
Note: The story has been updated to reflect the film's confirmation.
UPDATE: Per The Hollywood Reporter, actor Michael Shannon is set to play the film's villain. There have been no details released about exactly who the villain is, but chances are he'll be the guy responsible for keeping the amphibious merman lead character captive. Shannon can currently be seen on Broadway in Long Day's Journey Into Night and on movie screens in director Jeff Nichols' Midnight Special. He'll also appear in Nichols' upcoming movie Loving, which will premiere at the Cannes Film Festival.
Guillermo del Toro always has a laundry list of new projects going on at once, and he has formed a cast for yet another film, titled The Shape of Water.
According to The Tracking Board, the film will be a 1960s-set Cold War romance starring Richard Jenkins, Sally Hawkins, Octavia Spencer, and Michael Stuhlbarg.
The plot sounds like the perfect mix for del Toro: spooky, creepy, and heartfelt fantasy:
"The fairytale, set in 1963, centers around Elisa (Hawkins), a mute janitor working at a lab where an amphibious man is being held captive. When Elisa falls in love with the creature, she devises a plan to help him escape with the assistance of her neighbor (Jenkins). The world outside of the lab, however, may prove to be more dangerous for the amphibious man than Elisa could have anticipated.
The official synopsis calls it an "An other-worldly story, set against the backdrop of Cold War era America circa 1963."
So The Shape of Water will be a merman romance adventure. This would be a hopeless mistake for basically everybody else, but it makes perfect sense for del Toro. But we should be a bit cautious — del Toro seems to develop way more projects than he actually makes, and right now he's working on a Trollhunters series for Netflix. But our love of del Toro's brand of weirdness wants to see this one make it to the screen. Hes a singular filmmaker, and only he could pull it off.
Principal photography is expected to begin soon, so we'll keep an eye out for any merman set photos. The Shape of Water doesn't have a release date yet, but if all goes according to plan look for the film to hit theaters sometime in 2017 or 2018.