The 'Game of Thrones' Cast Didn't Believe Kit Harington's Lies About Jon Snow
Kit Harington reveals more information on keeping his return secret from the 'Game of Thrones' cast.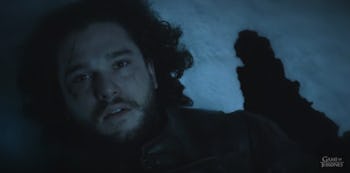 HBO 
The Jon Snow death and resurrection saga continues to be a study in pop culture hype. Although nobody believed that Kit Harington wasn't returning, he was forced to lie behind the scenes, too.
"At first I thought I would find it fun," Harington told Entertainment Weekly. "But I had to lie to a lot of close friends and cast members and crew. The longer it went, the more I felt like I was betraying them. So I did end up letting people in, slowly."
Unfortunately, Harington's reveal didn't come quickly enough for Sophie Turner, a.k.a. Sansa Stark, who wrote the actor a heartfelt goodbye letter about how she'll miss him. "Sophie Turner, bless her, wrote me a really long letter about how much she loved working with me – and I still got it," Harington said.
That's the equivalent of saying goodbye to someone and then awkwardly continuing to walk in the same direction. Game of Thrones is as cruel to its cast as it is to its viewers.
But Liam Cunningham, who plays, Davos, had the same reaction most viewers did. "He told me to fuck off from the start," Harington said.
We knew we liked Davos.