Whatsapp's Jan Koum: Yet Again Millions of Brazilians Are Being Punished
A court order was all it took.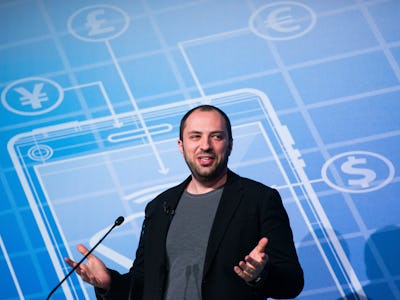 WhatsApp founder Jan Koum in 2014.
A little before midnight East Coast time on Monday, the founder of Whatsapp spoke out against Brazil's judge-ordered blackout of the messaging app, after company officials said they couldn't hand over encrypted user data even if they wanted to.
"Yet again millions of innocent Brazilians are being punished because a court wants WhatsApp to turn over information we repeatedly said we don't have," Jan Koum, Whatsapp's founder, posted on his Facebook page.
He continued: "Not only do we encrypt messages end-to-end on WhatsApp to keep people's information safe and secure, we also don't keep your chat history on our servers. When you send an end-to-end encrypted message, no one else can read it – not even us. While we are working to get WhatsApp back up and running as soon as possible, we have no intention of compromising the security of our billion users around the world."
Earlier on Monday, a judge in Brazil ordered all phone services to block popular messaging app WhatsApp for 72 hours starting on Monday afterWhatsApp leadership allegedly refused to provide law enforcement authorities with access to the private information of one of its users involved in a drug investigation. But even if they wanted to turn over access, WhatsApp leaders say they couldn't. That's because Whatsapp's new end-to-end encryption means it does not store users' messages on its servers and would therefore need to hack its own systems to provide law enforcement with the requested data.
The 100 million Brazilian WhatsApp users had the app disabled starting at 2 p.m. on Monday. In December, a different judge ordered the messaging service suspended for 48 hours after failing to respond to requests "in a criminal investigation." The vice president for Latin America's WhatsApp's parent company Facebook was even detained by Brazilian authorities in March regarding the investigation.
Despite the recent history of legal drama, the Whatsapp only just started end-to-end encryption last month.
Whatsapp has grown faster than any other messaging app. It hit 900 million in September and a billion in February. Koum's decision to amp up security has shifted the international landscape for privacy, forcing apps like Viber to follow suit for fear of being labelled insecure.
Brazil has definitely set itself up as a forceful advocate against encryption, whereas nations like the United States are walking a finer line, with most politicians calling for a solution that satisfies both law enforcement and the public concern for privacy. (Most people who know encryption well say that it just doesn't exist.)
The most contentious battle over law enforcement accessing encrypted communications occurred when the FBI ordered Apple to help it break into the locked iPhone of the San Bernardino terrorists who killed 14 people in December. Apple refused to comply, but the FBI paid a team of hackers to break into the phone using a confidential technique.