Mark Zuckerberg Welcomes WhatsApp Back to Brazil, Details Future Changes
Today, Brazil lifted its ban against WhatsApp - but there's more work to do, says Mark Zuckerberg.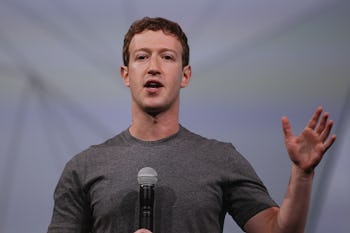 Justin Sullivan/Getty Images
In a Facebook post, company founder Mark Zuckerberg announced that a previous ban on WhatsApp in Brazil has been lifted, bringing the social media app back to the Brazilian audience. While the news was positive, it arrived in the midst of a major political discussion on internet freedom in Brazil, causing Zuckerberg to use his platform to zero in on what the citizens of Brazil could do to fight back for their online privacy.
"WhatsApp is now back online in Brazil! Your voices have been heard once again. Thank you to our community for helping resolve this," wrote Zuckerberg. "That said, the idea that everyone in Brazil can be denied the freedom to communicate the way they want is very scary in a democracy." He went on to suggest that fans of the app in Brazil attend a major event tomorrow in Brasilia lead by the Internet Freedom Caucus, where new laws to prevent blocking internet services like will be introduced. "If you are Brazilian and you support WhatsApp, I encourage you to make your voice heard. The greatest impact you can have is to show up in front of Congress at 6pm."
Yesterday, WhatsApp founder Jan Koum took to Facebook to express his disappointment in the decisions of the Brazilian judicial system and the country's disregard for user privacy. Among other items, WhatsApp company officials admitted that they could not hand over encrypted user data even if they wanted to, which brought the app's use to a screeching halt in Brazil. "While we are working to get WhatsApp back up and running as soon as possible, we have no intention of compromising the security of our billion users around the world," said Koum.
Closing out his post, Zuckerberg also linked to a petition, encouraging Brazilians to sign and share with a message of optimistic empowerment to the community: "Brazilians have been leaders in connecting the world and creating an open internet for many years. I hope you make your voice heard now and demand change."