'Arrow' Goes to Wayward Pines Which Is Under the Dome
Not even a solid Phil Collins joke could save "Genesis."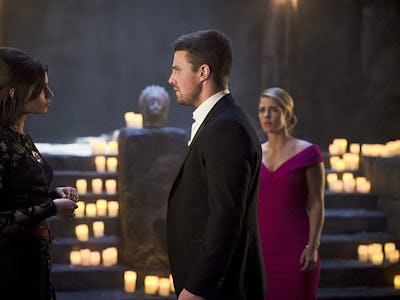 The CW
What's in a name? Last night on the CW, titles were rendered largely meaningless, as only one arrow was fired in the latest episode of Arrow. The episode, "Genesis," which was supposed to serve as an onramp to the end of the show's fourth season, was underwhelming; instead of an exciting inciting incident, it was more of an uninspired series of events, with only glimpses of an entertaining superhero series.
On the plus side, Felicity (Emily Bett Rickards) made a great Phil Collins joke… but that was the one bright spot for Arrow fans on Wednesday night.
As Oliver (Stephen Amell) prepares for his final battle against Damien Darhk (Neal McDonough), he needs a repellant against Darhk's magic. With help from John Constantine, Oliver goes to Hub City (which in DC Comics is the home of original Blue Beetle Ted Kord) with Felicity by his side to meet with Esrin Fortuna (Gabriella Wright). Don't bother Googling for Esrin Fortuna comics. She's an original character for Arrow, which is weird because everything about her screams Zatanna Zatara.
Meanwhile, Oliver's magical retreat allows Diggle (David Ramsey) and Thea (Willa Holland) to kick back, but of course they can't. Barely a minute into spending time with his wife and kid, who are smartly locked away in a mobile A.R.G.U.S. hideout, Diggle comes to final blows with his brother Andy (Eugene Byrd) while Thea awakes in a David Lynch nightmare — a manufactured "dome town" akin to Wayward Pines and Under the Dome — with her boyfriend, Alex (Parker Young), whose employment with Ruve Darhk may have had, well, dark consequences.
Darhk's "Genesis" plot, scarcely mentioned since the midseason cliff-hanger, is another "destroy to rebuild" super-villain plot you've seen, like, everywhere. In "Genesis" the dome town is Darhk's ark against his "flood", which is straight up nuclear holocaust. Arrow has done this exact story before, with Malcolm Merlyn's Undertaking back in Season 1, but now it's global — but no more impactful or compelling. I know the Arrowverse likes to reuse plots — The Flash Season 2's arc and super-villain motivations are structurally identical to Season 1 — but at least The Flash is fun to watch. Arrow isn't. Arrow isn't inspiring confidence, so Arrow reusing the same story is me wanting to scream at Arrow.
Besides wasting everyone time, what sucks about the state of Arrow is that there's still a good show in there, somewhere. As Supergirl soars high, Legends of Tomorrow fights futuristic Hitler, and The Flash speeds to other dimensions, Arrow, as a grounded and gritty vigilante drama, should be a great counterbalance to its increasingly sci-fi offshoots. "Genesis" shows evidence that Arrow can still work; Diggle killing Andy was a heartbreaking and legitimately shocking moment for the big guy, and actually succeeds in finishing this exhaustive arc. When it was all over, I wanted to hug Diggle.
But Arrow doesn't fail to make me cringe. How does this sound: Oliver learning magic requires him to "embrace the light" or some hokey, Jedi stuff. Against a guy like Damien DARHK and Oliver having to be the LIGHT against THE DARKNESS is too blunt and hardly fun. That Oliver had to think about Felicity — a woman who urged him to kill his enemy when he has refused to avoid "being like them" — is once again inconsistent and ridiculous plotting to which there's no saving from. Arrow is just a flood of bad TV and I seek refuge.