The Emoji Version of 'Star Wars: The Force Awakens' Is Funnier Than the Real Thing
The epic space saga is just as good as a three-minute clips using nothing but emojis, texts, GIFs, and some clever animation.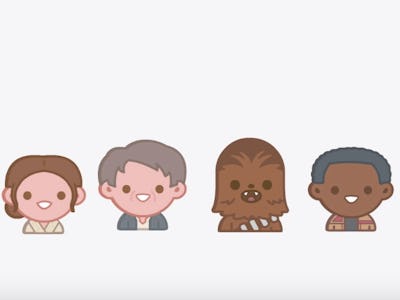 YouTube / Disney
Star Wars: The Force Awakens is a new film for a new generation, and if there's one thing everyone knows about millennials, it's that they love pithiness and cell phones. So it only makes sense that Disney, Lucasfilm's parent company, went and doubled down on their connect-with-the-kids strategy, and told the story of Star Wars: The Force Awakens using nothing but emojis, texts, and GIFs.
That's the thinking behind the emoji-fied version of The Force Awakens that just popped up on Disney's YouTube channel. This isn't the first time they've reduced the hard work of hundreds of filmmakers down to a digestible emoji-heavy clip. They've done it with a few of their animated movies before, like Frozen, Aladdin, and Tangled as told by emoji, but this one is unquestionably the best. If anything, it's meant to distract you before Rogue Oneor any other Star Wars news hits before Star Wars Day on May 4.
Still, the over three-minute clip is a surprisingly legit encapsulation of the most recent Star Wars movie, replete with a ton of funny emoji-based gags. The utter destruction of an entire planet has never been so cute and animated. Take a look below:
It's pretty goofy, and kind of fun. Expect your mom to share it with you on your Facebook timeline.
Bonus points for the portrayal of the movie's latent Force showdown between Kylo and Rey portrayed as a fight to get to Luke via your iPhone settings. Also, Disney would be foolish not to try and do a Star Wars tie-in with Uber called Chewber."
Above all the clip is a nice little showcase for the killer emojis and content on the surprisingly fun Star Wars app, which is worth a download for any Star Wars fan. Next time you're texting with someone you can send a Kylo Ren or Yoda emoji instead of a regular old angry face or happy face. The Force is with you, in emoji form.