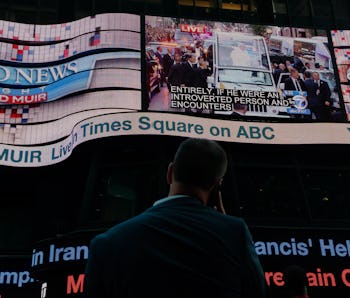 Innovation
Ad Billboards Are Tracking Phones, and One U.S. Senator Wants to Stop Them
The tracking initiative, called Clear Channel Outdoor RADAR, launched in February.
Getty Images
Billboards are tracking people's movements, using their smartphone's location data to find out whether they end up visiting an advertiser's store. One U.S. Senator is now fighting back, pushing the Federal Trade Commission to find out whether the practice is illegal.
"A person's cell phone should not become a James Bond-like personal tracking device for a corporation to gather information about consumers without their consent," Democratic Senator Chuck Schumer told the AP in a report on Sunday.
The service, called Clear Channel Outdoor RADAR, gives advertisers an anonymous oversight into who's looking at billboards, whether those people end up visiting the store being advertised, and whether an advertiser's billboards are effective.
TOMS Shoes is one company that Clear Channel says has used the service. The company was able to find out whether people talked about the brand with friends or looked it up online after they saw a TOMS Shoes billboard.
"We are able to show of the target exposed, who took action quantifying plans at an enhanced data level to better measure the impact of our campaigns," Jill Nickerson, senior vice president at Horizon Media, said in a press release announcing Clear Channel's initiative in February.
Clear Channel collects the data from "aggregate and anonymous mobile consumer information" provided by third parties. The company says the information is anonymous, but that's not good enough for Schumer.
"No one wants to be followed or tracked throughout their day, electronically or otherwise, so these new billboards not only raise eyebrows, but they raise some serious questions about privacy," Schumer said.