Here's an Exclusive Preview of 'Adventures of Supergirl' #9
The arc "Sistery Mystery" continues when Supergirl and Alex look for answers at the Fort Rozz crash site.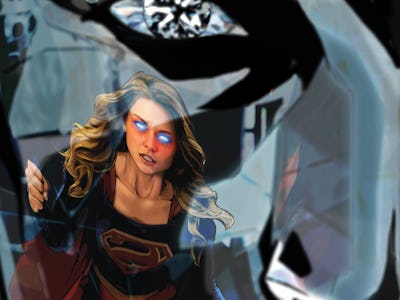 DC Comics
The first season of Supergirl on CBS starring Melissa Benoist may be over, but the digital-first comic Adventures of Supergirl is still going strong! DC Comics gave Inverse an exclusive preview of the upcoming issue #8, which will be released this Monday, May 2.
Following her nightmarish ordeal with Psi, the Fort Rozz guard who watch over prisoners through dreams, Supergirl/Kara Danvers drags her big sister and DEO agent Alex (played by Chyler Leigh in the TV show) on an early morning road trip to the Fort Rozz crash site for answers. But what they find may lead to more questions.
The book is written by veteran Supergirl and DC Comics writer Sterling Gates with art by Carmen Carnero and cover art by Cat Staggs.
The Adventures of Supergirl is a digital-first comic that takes place between episodes of Supergirl on CBS. Issues are released bi-weekly, and the next chapter, #8, will be available for download this Monday via the DC Comics App, ReadDCEntertainment.com, iBooks, comiXology.com, Google Play, Kindle Store, Nook Store, and iVerse ComicsPlus. And if you want Adventures of Supergirl on your shelf, DC will release the series in a twice-monthly periodical starting on May 11, with the first three chapters going to print.
Check out the previews of #8 below, with Kara and Alex heading into Fort Rozz.