The 13 Most Canadian Toronto References in 'Views From the 6'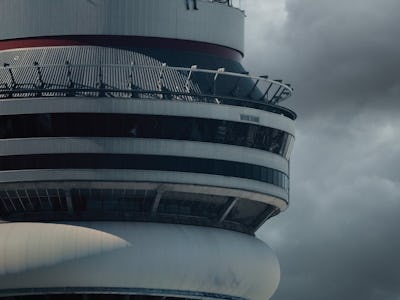 OVO Sound
Drake graced the world with his long-awaited Views album on Thursday night, after dropping "From the 6" from the album's title. The full-length title, referencing the nickname for his beloved hometown of Toronto, would have been redundant anyway; everything about Views, from its musical structure to its cover art to its sly lyrics, is a paean to the Ontario capital. Here, a Torontonian ranks and explains them, from least to most obscure.
12. "And I turn the 6 upside down, it's a 9 now"
The nickname "The 6" (also: Six and 6ix) — a reference to Toronto's area codes, 416 and 647 — had been circulating in the city well before Drake became the 6 God, but he's largely credited with putting it on the world map. In 9, Drake boasts about turning the city on its head, making, in the meantime, a savage sexual pun.
11. "6 cold like Alaska"
In Hype, Drizzy makes another reference to the 6 and its notoriously frigid temperatures, which, as a native of the Great White North, never faze him. It probably helps that his winter attire consistently involves his dope and incredibly expensive OVO x Canada Goose parka.
10. "My niggas still hit the club when it's 20 below"
He's not just referencing the cold in this line from Views — he's referencing the temperature in degrees Celsius. Torontonians don't fuck with the imperial system; likewise, they don't let below-freezing temperatures stop them from turning up.
9. "You're so predictable I hate people like you/Kennedy Road taught me not to trust people like you."
Kennedy Road is a major artery in the eastern Toronto suburb of Scarborough, a notoriously dangerous, immigrant-dense neighborhood that requires serious street smarts to navigate. What Drake, who's been known to kick it at the middle eastern café Habibiz on Kennedy Road, is saying in this line from Keep The Family Close is: trust no one.
8. "Like I'm shirt off, like I'm shirt off"
In Grammys, Drake makes several surprising shout-outs to the teenage Somali-Canadian rapper Hassan Ali, who goes by the name "Top 5" but has also been nicknamed "Shirt Off Shawty" because, well, he always has his shirt off. The rapper hails from Toronto's Lawrence Heights neighborhood, which has been alternately referred to as the "Jungle" by locals and "Toronto's new murder capital" by The Globe and Mail.
7. "[Kiddies] Caribana and trying not to catch a stray.
Drake makes a (slightly unintelligible) reference to Caribana, the raucous parade held in Toronto each year to celebrate its proud Caribbean community, in Views. The extravagant festivities surrounding the parade have become a linchpin of Toronto's cultural calendar, but it's also been known to attract violence and create stray bullets. This year, Drake's OVO Fest takes place during Caribana weekend.
6. "I worked at J.D.'s connections whenever Jason let me"
Elsewhere on Views, Drake pays homage to two of Toronto's most venerable rappers: the Mississauga artist J.D. Era, and Jason Harrow, the 6 rap legend more popularly known as Kardinal Offishall.
5. "Remember you was livin' at the London for a month/Service elevator up to 4201"
Drizzy's boo — at least the one he refers to on the Kanye West-produced "U With Me?" — has been living at the London on the Esplanade, a sweet condominium overlooking Lake Ontario in the historic St. Lawrence Market area of the city.
4. "How did I finesse all this shit from Jane and Weston?"
The 6 God's rags-to-riches narrative is central to his appeal, and he takes every chance he can get to emphasize just how raggedy his past was; on Still Here, he refers to the low-income neighborhood at Jane Street and Weston Road, where he grew up and casual stabbings still occasionally occur. If you Google "Jane + Weston," the first entry that pops up is the question "Which areas should I avoid in Toronto?" (The entirety of Weston Road Flows is about Drake's experiences in this neighborhood.)
3. "Big Apple had the white Hummer parked right in front of Fluid"
Drake, like so many Toronto kids that came of age in the early 2000s, was no stranger to Fluid Lounge, a long-running, "urban music"-heavy, and occasionally ratchet club on the bar-lined Richmond Street West in the city's entertainment district. The now-defunct Fluid, which Drizzy references in Weston Road Flows, has occasionally been referred to as a "YYZ legacy".
2. "This sound like some forty-three-oh-one shit"
The notorious community housing development at 4301 Kingston Road in Scarborough gets a nod in Drake's Pop Style. Just around the corner from the housing complex is the equally notorious Galloway Road — known to locals as G-Way — which RapGenius suggests is home to some members of P. Reign's Reps Up Records.
1. "Been flowin' stupid since Vince Carter was on some through the legs arm in the hoop shit"
Drake was only 14 when Vince Carter — the Greatest Toronto Raptor of All Time — made his legendarily insane dunk in the 2000 NBA All-Star Dunk Contest. Carter's time with the Raptors ended in 2004, but Drake and his home team have been carrying his legacy forward: The song "Summer Sixteen," not included on Views, has been pseudo-officially adopted by the Toronto Raptors as they "look for revenge" in the NBA playoffs for the second year in a row. The Pacers better watch their backs.