The Laremy Tunsil Gas-Mask Bong Photo Ruined the NFL Prospect's Draft
Hackers on his Twitter and Instagram accounts are busy trying to sink his career.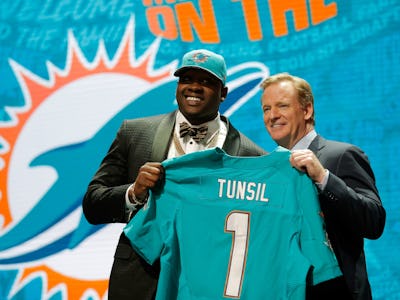 Getty Images/ Jon Durr
Laremy Tunsil is have a very bad, no-good NFL draft night — and not just because he got drafted by the Dolphins. In the middle of the NFL's second-biggest night, somebody took over of Tunsil's Instagram and Twitter accounts and started posting incriminating photos, including one somebody who looks like him ripping a gas-mask bong, and posting screenshots of an alleged conversation between Tunsil and Ole Miss football program officials in which the NCAA athlete asks for money for help paying his rent. Because the NFL draft is essentially a meat-market where players are judged both for the athletic ability and their perceived "character," Tunsil dropped from a projected top-five pick to the 19th overall pick, when the Dolphins snapped him up, even though the social-media smoke had yet to clear.
At 7:47 p.m., Tunsil's Twitter account posted a video of the star offensive tackle smoking (presumably marijuana) out of a gas mask bong. The video was immediately taken down, but Deadspin managed to grab it before it went away. Tunsil immediately deleted his account, then re-created it and apologized for the video.
"I recreated this account to publicly apologize for the recent video posted. I promise to work hard on and off the field, #NFLDraft2016" he tweeted.
Here's a screengrab of the original video.
His agent, Jimmy Sexton, told ESPN: "It is B.S. Somebody hacked into his account."
Tunsil told ESPN "we're trying to find out" who was behind the hack, and another of his representatives told ESPN that the video could have been "as old as high school," — but the chaos didn't stop there.
The alleged "hackers" then Instagrammed (on Tunsil's official account) screenshots of text message conversations allegedly between Tunsil and Ole Miss athletic director Jon Miller, in which Tunsil asks Miller for financial help for family expenses and rent payments.
As *Deadspin noted, both of these posts were made during the exact time Tunsil was speaking to ESPN's Suzy Kolber, so unless he was Instagramming incriminating evidence on NCAA contract-breaking arrangements from his pocket or something, he probably got hacked.
While the hackers were doing their best to ruin Tunsil's career (which hasn't even started yet), Tunsil wasn't doing himself any favors.
During a post-draft press conference, he spoke with reporters for almost four minutes before being ushered off the stage. At the 2:45 mark, Tunsil says "I'd have to say yeah" when asked if the screenshots were a conversation about money with his coach.