5 Apps for Creating Your Own VR Content
Want to get into the 360-degree game? These apps will help you get started.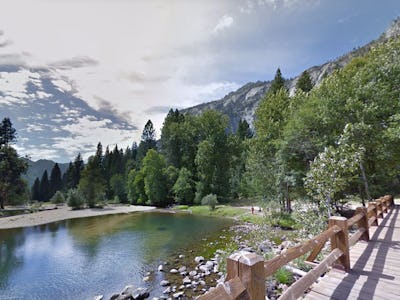 Google Street View
Virtual reality is changing everything. It may not be happening all at once, but trust that change is coming. It's not just consuming and interacting with content that's on the way, though — creating it is going to be a big part of VR.
There are already a number of apps that let users get involved in the content craze by enabling 360-degree videos and pictures, and while 360-degree content isn't necessarily totally analogous to VR, the ability to capture an entire environment is a big part of it.
So let's take a look at a few of the apps that are enabling a 360-degree content boom.
Photo Sphere — Free (iOS, Android)
Tied into Google's Street View app, the Google-developed Photo Sphere functionality lets you create 360-degree photos by simply taking pictures with the help of its onscreen guide. It takes a few rotations to capture everything, but the app stitches it all together automatically and lets you share the sphere to Google Maps (if that's your thing).
With the Street View app, you'll also be able to view spheres from around the world either on your phone or in Google Cardboard.
360 Panorama — $1.99 (iOS, Blackberry)
This one's super easy to use. 360 Panorama uses your iPhone camera to stitch pictures together and create a 360-degree image. Pretty simple, right? It basically just works exactly like you think it should. What's more, it has a user testimonial from Chamillionaire right on the iTunes Store page. Who can you trust if not Chamillionaire, I guess?
It doesn't have quite the flashy, beautiful design of Photo Sphere, but it does provide more options for sharing, lets you view your photos in different formats, is super quick, and doesn't require several rotations
"Just downloaded this 360 Panorama App. Kinda dope." — Chamillionaire
Panorama 360 — Free (Google Play)
Not to be confused with 360 Panorama above, Panorama 360 is available in the Google Play Store and provides the functionality you'd expect (e.g. stitching an image into a 360-degree photo) with some added features like filters, effects, sharing, and Google Cardboard compatibility. Pretty good value for the low, low price of free.
Splash — Free (iOS)
As one might imagine, creating 360-degree video is a bit more complicated than stitching together photos. But Splash is an app you'll want to try if you're going the video route. Its clean, simple interface makes it easy to use, has social network integration for sharing, and lets you view videos in Google Cardboard. If you're looking to create 360-degree videos on your phone, this is your place to start.
Note, though, that it's not perfect. It takes some getting used to in order to make videos that look great because you're essentially taking a bunch of videos that are stitched together to create a larger 360-degree video tapestry. That said, if you're looking to try your hand at 360-degree video, this is a free starting point before you move up to the world of GoPro rigs and sphere cameras.