People Would Rather Masturbate to 'Game of Thrones' Than Porn
New Pornhub stats reveals new information about 'Game of Thrones'-related searches.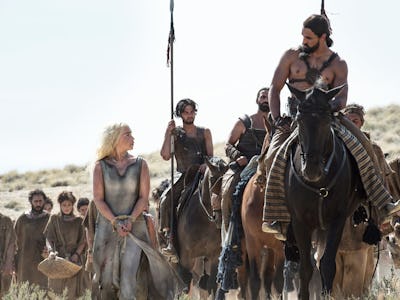 The world is excited about the return of Game of Thrones in more ways than one — newly released data shows that Pornhub searches for Game of Thrones- related porn went up 370% in the days surrounding the Season 6 premiere. The New York Post reported these searches were for porn re-enactments — and for clips of the show's sex scenes. Pornhub's traffic also dropped 4% during the record-breaking Game of Thrones airing, when nearly 11 million people stopped jerking off and tuned in to find out if Jon Snow was actually dead.
Game of Thrones has previously gotten a lot of flack for its tendency to gear sex scenes toward heterosexual male viewers and only display women's naked bodies. Both male and female actors alike have spoken out about it.
But unsurprisingly, the most searched-for Game of Thrones figures are not Hodor or The Hound. From Cinemablend, here's the graph of the most popular searches.
There is no word yet on whether Melisandre's place on the list will be affected by the mass sexual confusion about her true nature.