Yup, Drake's 'Views From the 6' Album Cover Is Photoshopped
We didn't want to think so, but it is true.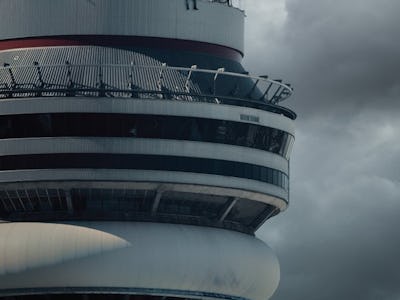 As beloved as the CN Tower is to Drake, it may still be a bit too high a chill spot for him.
On Sunday, April 24, Drake unveiled the album cover for his fourth studio album, Views From the 6, which features him sitting up top Toronto's CN Tower. Soon after the reveal, Twitter trolls took turns creating memes from the album cover while others investigated on whether the photo was real or photoshopped.
Today, April 26, the CN Tower's Twitter account ended the fun and confirmed that the Views album artwork is indeed photoshopped:
"Proud Torontonian @Drake at the top of CN Tower with the help of some photoshop magic! #photoshopped #notreallythere."
Perhaps the CN Tower didn't want anyone to get any ideas on whether they too can climb up to the top and enjoy the views of the 6.
A day after revealing the album artwork, Drake announced a collaborative tour with Future, Summer Sixteen, which kicks off in late July. He also announced the lineup for the 7th annual OVO Fest (kind of) taking place in Toronto, as always. The three-day event (July 29, July 31, and Aug. 1) will feature Snoop Dogg and Wiz Khalfia's High Road Summer tour and his and Future's Summer Sixteen tour.
More than likely Jhené AIko, Casey Veggies, Kevin Gates, and DJ Drama will make an appearance seeing that they're on the High Road Summer tour. There's sure to be more surprises, if taking into account the past few years. Drake has brought out Stevie Wonder, Lil Wayne, TLC, Kanye West, Puff Daddy, Ma$e, and more. Let the guessing begin.