Drake's 'View From the 6' Cover is Another Romantic Gesture Toward the CN Tower
Drizzy has an edifice complex and a panoramic view from where he's sitting.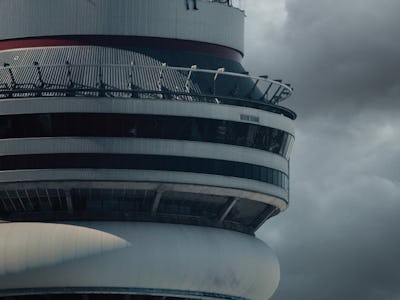 Drake
Drake is from Toronto. Drake will not let the world forget this. He reps his city like most people rep their faces. And the album cover for his fourth studio album, Views From the 6, may be the biggest shout out yet. The image features the rapper sitting on top of the city's iconic CN Tower, which Drake seems intent on making a 1,815-foot-tall hip-hop icon.
The CN Tower, named after the railway company Canadian National, is located in downtown Toronto. It's the the third-tallest tower in the world, a hotspot for tourists, and apparently a decent spot for chilling. It has also been, over the last decade, on the receiving end of a lot of romantic overtures from Drake. He loves the thing, either because it's his hometown's most prominent landmark, or simply because it's a very cool looking thing he liked when he was a kid.
Here is a very brief history of the man and the building that he loves.
That Time He Went for a Ride
In October of 2011, Drake released his music video for "Headlines," which features him riding one of the tower's six glass-windowed elevators, while coincidentally rapping about his rise to fame.
That Time He Started From the Bottom
The "Started From the Bottom" music video, released in February 2013, includes a shot of the CN Tower illuminated at night.
That Time He Got Inked
Back in 2012, Drake got a tattoo of the tower on his bicep. Two years later, he got that tatoo covered up with a crying eye (for whatever reason). This was presumably the nadir of his relationship with the CN Tower.
That Time He Got Inked Again
In January 2015, Drake debuted a tattoo inspired by the CN Tower, according to The Source. Drake and his tower apparently had made up.
That Time He Went Home
In the album's short film, "Jungle," Drake takes us down memory lane, showcasing dated shots and footage of his city including the Great Toronto Fire of 1904, the Royal York, the G20 riots, and…the CN Tower.
That Time He Put It On His Album
And last but not least, Drake places the CN Tower front in center of the Views From the 6 album cover.
After the unveiling of his album cover yesterday, many took turns at creating a meme out of the album cover. But, Drake wouldn't be Drake if he didn't create meme-provoking art and also represented for his city.