Who Is Reza Baluchi? The Man Who Wants to Run From Florida to Bermuda in a Bubble
He's on a mission to bring nations together. He's also a little nuts.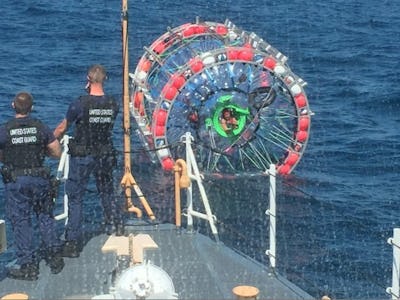 Mark Bar via Wikimedia Commons
What is it that inspires someone to spend years attempting to run across the ocean in a giant inflatable bubble? Reza Baluchi, a 44-year-old Iranian man, recently made a lot of headline writers happy by attempting to run from Florida to Bermuda in a plastic floating bubble he calls a "Hydro Pod."
You may think this an overzealous response to one of those Google Maps glitches that tells you you can get from, like, New York to Paris by walking across the Atlantic Ocean, but Baluchi actually attempts a lot of similar physical stunts; he also attempted his Hydro Pod run in 2014.
Baluchi's larger goal is to be the first person to run across every nation in the world, in order "to inspire us and unite us as a people," according to his website. To our disappointment, the website is a little out of date and doesn't reflect this spectacular effort to reach Bermuda, but it does give us a fuller picture of his life.
Born in northern Iran, Baluchi writes that he was on the national cycling team as a teenager before entering the army. He spent much of his twenties biking across 55 countries — nearly 50,000 miles. "He delivered a message of peace every where [sic] he went, shared love and began to experience life in a way many people only dream of."
The bubble actually looks pretty cool, like a seafaring hamster wheel:
Still, this news.com.au story is just too fantastic not to quote:
"…this is not the first time Baluchi has attempted his bizarre marine voyage. Back in 2014, the Coast Guard was notified of a disoriented man in a bubble off the coast of Miami who was asking for directions to Bermuda. He refused to stop, but asked for help three days later, and was picked up about 112 kilometers off the coast at a taxpayer expense of more than $186,000, according to CNN. On his website, Baluchi said he temperature inside the bubble could reach can get to almost 50 Celsius [122 Fahrenheit] and he his strategy was to catch fish, eat protein bars and sleep in a hammock inside the bubble."
He may not have reached his goal of getting to Bermuda, but he's coming along nicely as an up-and-coming Florida Man. Baluchi writes that one of his goals, post-9/11, is to demonstrate that Iranians are peaceful, and he has also run the perimeter of the United States and donated the proceeds to charity, and that's all pretty cool, so I'm going to leave things here in terms of jokes. You can watch the bubble for yourself here: