Watch a Soyuz Rocket Launch a Climate Change Satellite Into Orbit
The Sentinel satellite offers "all-weather, day and night radar imagery."
ESA
A few minutes after 5 p.m. today, a rocket launched from French Guiana in South America, carrying a satellite into orbit that will advance an ongoing mission to monitor how Earth's natural features are changing due to the planet's gradual warming.
That satellite, Sentinel-1B, follows the launch of Sentinel-1A back in 2014, and is part of the European Space Agency's Copernicus program. The Sentinel 1 satellites provide "all-weather, day and night radar imagery for land and ocean services," according the ESA, and are the first in Sentinel family of environmental satellites to head into space.
The satellites form a partnership and are able to keep eyes on the entire globe: "By orbiting 180 degrees apart, global coverage and data delivery are optimized," explains the ESA.
"The mission provides radar imagery for a multitude of services and applications to improve everyday life and understand our changing planet."
The satellite was carried by the Russian-made Soyuz rocket and the launch was managed by French commercial launch company Arianespace, which has been putting rockets into space since 1980.
The launch was originally scheduled for last week, but was scrubbed multiple times before today's successful attempt.
Because it's always a fun thing to watch, here's the Soyuz ditching its boosters and then tumbling back down toward Earth.
Up next for the Sentinel program? The Sentinel-2 satellites, of course, which "will provide high-resolution optical imagery for land services." The ESA offers this timeline: "Sentinel-2A was launched on 23 June 2015 and Sentinel-2B will follow in the second half of 2016." Here's a full rundown.
Watch the full launch here: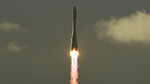 Here's a video of just the lift-off: