Marvel's New 'Civil War' Mobile Game Update is All About Black Superheroes
Black Panther, War Machine, and Falcon as seen in 'Civil War' enter Marvel's gaming space.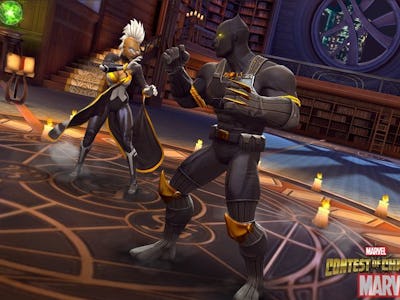 Marvel
Diversity has never been lacking at Marvel. The comic book publisher has championed inclusion since Stan Lee stood against bigotry during the Civil Rights movement. Now, in 2016, Marvel is a global powerhouse charging into the summer movie season with Captain America: Civil War. The single most ethnically and gender diverse Marvel movie thus far, Civil War is precipitating a demographic shift in Marvel's mobile games, including Marvel: Contest of Champions, Marvel: Future Fight, Marvel: Avengers Academy, and more. Black Panther, War Machine, and Falcon are coming to mobile. That's three black superheroes in one download.
Captain America: Civil War, following the 2006 comic of the same name, features Captain America and Iron Man leading a divided superhero community to battle over federal registration. The movie has more superheroes of color playing more prominent roles. It would have been bizarre if the mobile games didn't reflect this, but it's notable that the relevant DLC features solely African and African-American characters.
In truth, Marvel isn't using diversity to market its titles. The gimmick is simpler than that: Superheroes fight superheroes. And maybe that's what is most notable. The changes are happening organically. The games will more accurately reflect their diverse audience as the movies do the same. (For what it's worth, the graphics look great.)
Black Panther's inclusion is particularly interesting because of the cell phone boom in Africa and the political implications of the character. Black Panther, or T'Challa, is the leader of an African nation. He fights not only on behalf of his beliefs, or a military industrial complex. He represents his people — and has done so proudly since Fantastic Four #52 in 1966. It's far from insignificant that hundreds of thousands of mobile gamers will now be able to help him.