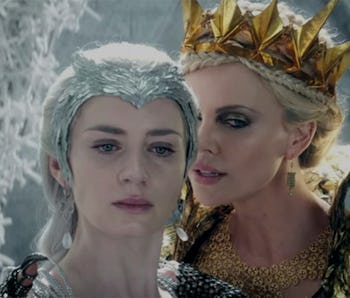 Entertainment
The Huntsman: Winter's War' Was a Pretty Failure
'The Jungle Book' takes the top spot at the box office for a second week.
The Huntsman: Winter's War
The Huntsman: Winter's War fell flat in its opening weekend, grossing $20 million, despite a showing in more than 3,700 theaters.
Expectations for Winter's War weren't too high, despite an all-star cast of Charlize Theron, Emily Blunt, Jessica Chastain, and Chris Hemsworth. Putrid critical reviews (17 percent "fresh" on Rotten Tomatoes) foreshadowed Winter's War's less-than-inspiring release. Essentially, it was just another drop in the bucket in our cyclical world of sequels and prequels.
The Kristen Stewart-led Snow White and the Huntsman opened to a 64 percent higher gross back in 2012, according to The Hollywood Reporter. Winter's War re-shifts its focus on Hemsworth, and some critics compared it to a live-action Frozen for adults. Clearly, fans were not interested enough in Hemsworth's character — or an adult Frozen — to make it to the theaters.
The box office hit of the weekend was, once again, Disney's The Jungle Book, pulling in another $60 million and bringing the movie's box office total to more than $191 million in the second week. Nostalgia and groundbreaking CGI win again.
Barbershop: The Next Cut made another $10 million in its second week, Zootopia came in third with $6 million in its eighth week, and The Boss rounded out the top five at the weekend box office with $6 million.