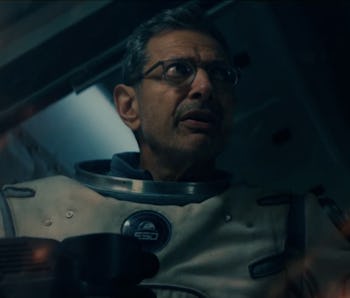 Entertainment
Latest 'Independence Day: Resurgence' Trailer Has Jeff Goldblum Screwing Up
Basically everything on Earth will be destroyed.
YouTube / 20th Century Fox
"I can't believe it's been 20 years," Liam Hemsworth's character says in the new trailer for Independence Day: Resurgence, a sentiment with which we very much agree. It seems like only yesterday that Randy Quaid was flying up the alien ship's rear, but here we are, with the second trailer for the long-awaited follow-up from 20th Century Fox. Sequels usually tend to go bigger, and even without Will Smith, this one does just that.
Even sans Smith, there are plenty of returning stars from the original. Jeff Goldblum, Bill Pullman (plus a killer beard), Vivica A. Fox, and Brent Spiner are back, while Liam Hemsworth, Maika Monroe, and Jessie Usher (doing his best Will Smith impression) lead the new cast as hotshot Earth Space Defense pilots. Roland Emmerich, who began his long run of apocalyptic blowing-shit-up movies with Independence Day and went on to make The Day After Tomorrow, the atrocious Matthew Broderick Godzilla movie, and White House Down among others, returns for directing duties once again.
Here's the setup: Earth is too busy appropriating leftover alien technology from the original invasion to realize that the extraterrestrial bad guys have been beefing up their own arsenal for the past 20 years for a counterattack. Goldblum's David Levinson, the newly installed Earth Space Defense Director, makes the biggest whoopsies of all time and forgets to prepare the entire world for such a return. Cue: a bunch of explosions and space battles, with bigger and bolder special effects and destruction.
Try and count how many world landmarks are destroyed in the trailer below:
To celebrate Earth Day — and the aliens' potential destruction of it in the movie they made — 20th Century Fox is also running a promotion on Google Play offering the first Independence Day movie for $0.99 with proceeds going to the Earth Day Network. They even created a maybe-too-goofy-considering-the-circumstances PSA with the David Levinson character offering Earth Day tips with a message of his own.
If you'd like to reminisce about the first time aliens tried to annihilate the planet, you can also join in "a global #IndependenceDayLive Earth Day Watch Party" starting at 4pm PT today by following along on Twitter at @IndependenceDay.
Independence Day: Resurgence uses its alien technology to fly into theaters on June 24, 2016.