Prince Was a Comic Book Mainstay
Prince wasn't just one of the world's most iconic musicians, he was also a comic book hero.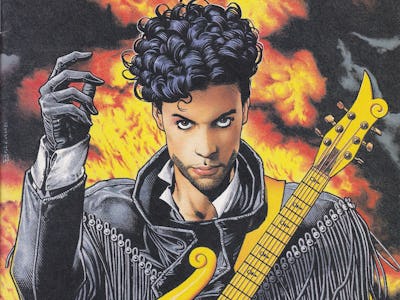 DC Comics / Piranha Press
Prince, who died on Thursday at the age of 57, was larger than life. He could've done nothing but release fire albums and he still would've been a legend. But he was multi-talented, and his movie, television and even comic book appearances only elevated him further into international stardom. His untimely passing inspires nostalgia, and for us, this look back at his history as a comic book character.
Prince first appeared in comic books in 1985, when he appeared on the cover of Cracked #209 alongside Boy George, Michael Jackson and the Gremlins. It was the 80s, man. After that first issue, Prince would go on to make appearances in 7 other issues of Cracked between 1985 and 1995.
Prince moved up the comic book ranks in 1987 with an appearance in Captain America #327, where an AmericAid concert serves as the backdrop for a confrontation between Cap and Super-Patriot. Though much of the confrontation took place backstage, Prince and several other musicians shared the panels with Captain America. Also in 1987, the parodied likenesses of Prince, Madonna, Michael Jackson and Boy George appeared in a "spoof of the popular culture of the 1980s" in Shooting Star #1.
Prince became a comic book protagonist a few years later, appearing in a Rock N' Roll comic of his own based on his life in 1991. A year later, hed also appear alongside Arsenio Hall, Elton John and others in Paula Abduls issue of Rock N Roll. By 2013, Michael L. Frizell would revisit Prince's life story in comic book form with Fame.
Prince wasn't just the stuff of backgrounds, parodies and biographies, though he was a comic book hero in his own right, in 1994's Prince and the New Power Generation: Three Chains of Gold. Three Chains of Gold found Prince and his band traveling to the Middle East to help a princess locate the chains — lost magical artifacts that held great power and the opportunity for profound control.
Perhaps his most well-known heroic appearance, though, was in Alter Ego, in which Prince returned to Minnesota, rode a kickass purple motorcycle and thwarted some baddies with his bare hands. He was every bit the hero you'd expect Prince to be, blazing his own trail and saving the day his own way.
Rest in peace, Prince Well see you in the panels.