Robert Downey Jr. Refuses to Stop Making Sherlock Holmes Movies
Elementary, my dear Downey Jr.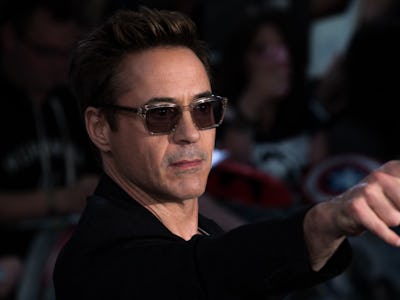 Ian Gavan / Getty
It's tough being a superhero, and it must be even tougher playing one. Robert Downey Jr., aka Tony Stark, aka Iron Man, has become the highest paid actor in the world by appearing on-screen as the figurehead of the lucrative Marvel Cinematic Universe seven times, including this summer's Captain America: Civil War. Occasionally he dips his toes into non-superhero fare like Guy Ritchie's Sherlock Holmes movies. According to an interview the actor gave to Shortlist, the third Holmes adventure is set to begin production this year, which basically means Robert Downey Jr. will only be in gigantic film franchises from now on.
Of returning to Ritchie's re-imagining of Arthur Conan Doyle's super sleuth as a buddy cop bro-out co-starring Jude Law for a third time, Downey Jr. said, "We'll attempt to make [Sherlock Holmes 3] this year" after admitting, "when we're making those Sherlock movies it is off the hook and it really is a big deal to go and do those movies. I'm tired all the time, but I'm excited about it."
It's a tough life, Robert, a tough life. Especially when small insignificant indie directors try to force you into helping them out with your immense talent. In 2015, before the release of Avengers: Age of Ultron, Downey Jr. went on Entertainment Weekly Radio to say he's over the low budget stuff. Why? Well here's why:
"Because they're exhausting and sometimes they suck and then you just go, 'What was I thinking?' But I'm interested in doing all different kinds of movies. Sometimes the little movies are the ones that wind up taking the most out of you because they're like, 'Hey, man, we're just running a couple of days behind. Do you think you can stay through your birthday and then come back on the fourth of July. And, by the way, but, like, the crew—can you pay for the craft services? And, oh, by the way, man, when we go to Sundance, it's like, can we just sit you in a chair and you can sell this for six days in a row so that we'll make 180 bucks when it opens in one theater? God, this is so powerful what we're doing. What do you think of the movie? You saw it last night?"
Robert Downey Jr. is interested in doing all different kinds of movies, only if they cost a minimum $100 million to make.
Speaking of which, it's been a minute since he appeared as the newly action packed private detective from 221B Baker Street. Sherlock Holmes: A Game of Shadows was released in 2011 and a threequel has been in development ever since. Ritchie is finishing up production on his Knights of the Roundtable: King Arthur movie set for release on March 24, 2017. But until then, be on the lookout for more news about Downey Jr. trading in his quips as Tony Stark for quips as Sherlock Holmes, for a third time.