Drug-Delivery Startup Nurx Adds AIDS Prevention Drug Truvada
Convenience meets life-saving medication.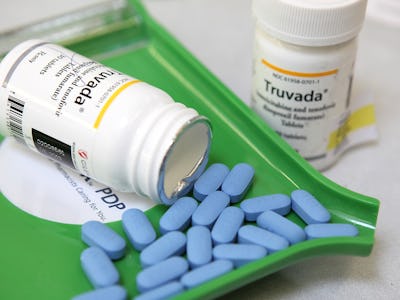 Getty Images/ Justin Sullivan
Twenty years after the height of the AIDS epidemic in America, doctors finally have a reliable way of preventing people from contracting the disease. Pre-exposure prophylaxis drugs like Truvada, the most prevalent brand name, can successfully neutralize the chances of catching the HIV virus, even among individuals at high risk. But they only work if they're taken regularly — which is where Nurx comes in.
The new San Francisco-based startup runs off of an easily accessible smartphone app — users sign up, answer a few screening questions, and go to a lab for routine blood work, which a Nurx-affiliated doctor will review to check that they're not already HIV positive and haven't had bad responses to other PrEP drugs. After that's done, the app mails them a three-month supply of Truvada. Nurx has already used this model to deliver birth control, and PrEP drugs are next. The startup hopes that making Truvada easily accessible could help at-risk populations with less access to traditional healthcare get on the drug. Minority gay populations, sex workers, and other groups are often harder to reach, especially as PrEP drugs are still new to many doctors. They're easy to find in places like San Francisco, but for individuals at risk in rural areas, smaller cities, or underprivileged communities, it's often difficult to get cutting-edge drugs with such a specific purpose.
PrEP drugs aren't perfect, but they're pretty close, if taken regularly. To date, only one regular (at least 4 times a week) Truvada user has contracted HIV, but the rates are far higher when patients skip doses or run out of their pills. Nurx could be the Amazon Dash Button for a lifesaving prescription. Nurx will work through a patient's normal insurance or through payment plans — so it's not like it's a magical prescription elf, but shipping is free and it completely eliminates the need for a tedious trip to the pharmacy.
Some doctors have reservations about the app, however: Dr. Arthur Caplan, bioethicist at New York University, told the Verge that patients would benefit more from seeing a doctor face to face, where they can discuss medical history or outside problems like sexual abuse, addiction, home life, and mental health.
"I think there you still need that initial visit," Caplan said. "It's nice to get people into the doctor so they can probe around a little bit, see what else might be going on."
Nurx doesn't solve the global problem with AIDS, as complicated treatment cocktails and designer PrEP formulas are still unavailable in much of the developing world, but it could be a huge help for at-risk populations in the U.S.